IF YOU are not going to be home in Ireland for Christmas that doesn't mean you can't create a truly Irish lunch on Christmas Day.
There are plenty of great Irish food brands on offer in stores across Britain and further afield.
Here are just some of the treats that can help you create an authentic festive Irish feast for your family and where to find them…
To Start
Every good meal begins with a sumptuous starter, and these seafood options will transport you back to the Irish coast…
Goatsbridge Trout Caviar
Ireland's leading award-winning trout farm, Goatsbridge in Co. Kilkenny, have created Ireland's first Rainbow Trout Caviar. The Rainbow Trout Caviar is a true delicacy with a bright colour and mild, superior flavour. It's rich in Omega 3, high in protein and ready to eat, making it the perfect centre piece for Christmas breakfast or as a starter for Christmas lunch. Quality is at the heart of Goatsbridge, and all its products are lovingly and sustainably created on a family-owned farm which is run by second-generation husband and wife team, Mag and Ger Kirwan using methods perfected over more than 50 years.
Stockist: Sainsbury's  RRP: £9.95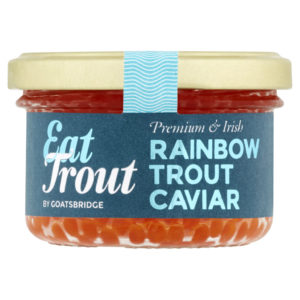 Burren Smokehouse Cold Smoked Organic Salmon
Nothing beats the tradition of fresh smoked salmon at Christmas. This traditionally cold smoked Organic Salmon from Burren Smokehouse comes from the clear and very exposed waters of the west coast of Ireland. It offers the pure pleasure of oak-smoked salmon with no other flavours to distract from the mouth-watering taste, to make sure your festive feast begins in the best possible way. The Burren Smokehouse, in Co. Clare, is a family-run business that was set up in 1989 by Birgitta & Peter Curtin. They researched the smoking traditions in Ireland and in Sweden and the idea of the Smokehouse was born.
Stockists: Selfridges RRP: £11.99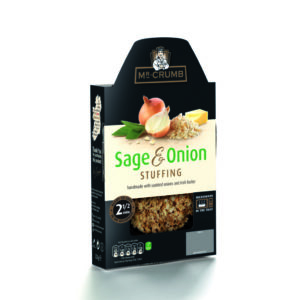 For Mains
Obviously, you are well prepared and have your turkey on order or already in your fridge, but why not add some flavour from home to your plate with some good Irish stuffing…
Mr Crumb Sage & Onion Stuffing
Stuffing is an essential part of any Christmas lunch, and it doesn't get much better than Mr Crumb's Sage & Onion Stuffing with Irish Butter.
A rich Irish stuffing handmade with natural ingredients including onions and sage sautéed in real Irish butter, blended with fresh breadcrumbs. Prepared in small batches, this award-winning stuffing is vegetarian friendly and ready to eat in just 2 minutes. Perfect for a fuss-free Christmas lunch. MrCrumb is a small family-run artisan business based in the rural village if Finea, county Westmeath in the luscious green lakelands of Ireland.
Stockist: Sainsbury's RRP: £2
Christmas cheeseboard
Christmas is the perfect opportunity to sample the finest, award-winning cheeses from Ireland. For the perfect cheeseboard this Christmas, keep it simple - choose three to four Irish cheeses, then make sure there's a good biscuit, cracker or artisan bread and chutney to serve alongside. When it comes to selecting the Irish cheeses, make sure you include different textures and flavours – a hard,; a soft or creamy goat's cheese, and a characterful blue will make a good foundation for your board.
Cashel Blue
Established in 1984, in Co. Tipperary, Cashel Blue® is the original Irish farmhouse cow's milk blue cheese. Cashel Blue® is a unique creation of Jane and Louis Grubb, developed at a time when softer blue cheeses were a rarity. The Cashel Blue Cheese is a characterful but not strong, six-to-ten-week- old cheese. With pleasant, firm and creamy-edges, it has an established blue flavour, offset by a mouth-watering tanginess.
Stockists: Waitrose, Ocado, Selfridges, and
independent cheese shops across the UK including Neal's Yard Dairy.  RRP: from £2.99
Cahill Plain Porter
The Cahill family has been farming land in Newcastle West, Co. Limerick and producing cheeses since 1986. The brown waxed Cahill Plain Porter is an unusual vintage Irish cheddar cheese, marbled with classic Irish stout, Porter, and is the original and definitive Irish Plain Porter Cheese. Full flavoured and tasty with a distinctive long lingering taste, it creates a fantastic centre piece on an indulgent after-dinner cheeseboard.
Stockists: The Cheese Society and independent cheese shops across the UK RRP: £2.00
St Tola
St Tola Irish Goats' Cheese is known as one of the most premium artisan products in Ireland. It has been hand-made in the townland of Inagh, just south of the Burren in County Clare since the early 1980s. The St Tola herd of goats are reared on 65 acres of unspoiled pasturelands – considered some of the finest and purest farmland of its type in Europe. The cheese has a golden rind on the outside and a soft white interior. It has complex, mellow and warm flavours and a rich, full-in-your-mouth texture – perfect for cooking with or as part of a festive cheeseboard.
Stockist: Neal's Yard Dairy RRP: prices start from £11.85 for 175g
Cooleeney Cheese
Cooleeney is a soft mould ripened cheese, a little like a Camembert, with a beautiful creamy texture and a distinctive aftertaste. When mature, it has a distinct but mellow taste. At the Cooleeney farm, in Co. Tipperary, the fourth generation of the Maher family work the land and combine creativity and innovation with respect for traditional craft and simplicity to produce their renowned cheeses for their own pedigree Friesian herd.
Stockists: Paxton & Whitfield and independent cheese shops across the UK. RRP: £4.25 (200g)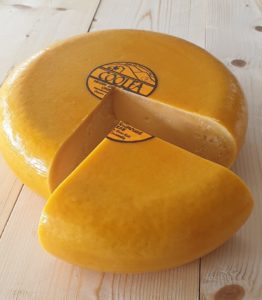 Coolea
The flavours of this mild and creamy cheese are sweet and rich with hints of caramel, butterscotch and honey. Coolea is smooth and close textured, with a distinct flavour. Coolea Cheese is hand made on the mountain farm of the Willems family in Coolea Co. Cork.
Stockists: Neal's Yard Dairy RRP: £14.60 (435g)
Durrus Cheese
An original recipe created by Jeffa Gill in 1979. Durrus Cheese has a natural rind that is developed slowly by washing it with cultures that are specific to our dairy. These cultures develop the mottled pinkish skin as the cheeses ripen in their curing rooms. The paste is straw coloured with irregular tiny holes and a soft pliable texture. The flavour of the Durrus can range from mild, mellow and grassy when young to rich, strong and earthy when aged. Durrus Cheese has won many awards, both nationally and internationally, most recently it was awarded a Gold Medal at both the 2017 Irish Food Awards and 2017 British Cheese Awards, and 2 Gold Stars at the 2016 Great Taste Awards from the Guild of Fine Foods, UK.
Stockists: Neal's Yard Dairy RRP: £10.55 (275g)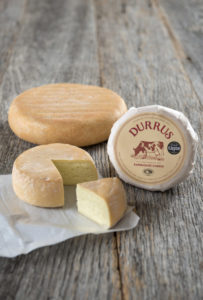 Mossfield Cheese
Rich in colour and with the full flavour of aged Gouda, this cheese is made with organic cows milk. The cheese itself is creamy when younger, with the distinct nutty flavour you would expect from Gouda, combined with the herby flavours of the Mossfield grass. With age, the cheese becomes harder and more crumbly and the flavour stronger and more intense.
Stockists: The Cheese Society, Neals Yard Dairy; Paxton & Whitfield  RRP: £9.75 (250g)
Stocking Fillers
If you still have a few last-minute gifts to buy, why not opt for something sweet and Irish to fill those stockings…
Pandora Bell Honey Nougat
Made using the original recipe Italian for Soft Torrone, Pandora Bell's Nougat combines exquisite ingredients: carefully selected premium Italian nuts, cocoa butter, free range egg and the natural sweetness of honey. A Christmas tradition, and a year-round
favourite. Honey Nougat with Orange and Almonds, 200g
Stockists: Ocado, Pandora Bell RRP: £7.40
Honey Nougat with Almonds and Pistachios, 200g. Stockists: Pandora Bell and Indpendent Health Food Retailers
Pandora Bell Lollipops
Pandora Bell Handmade Lollipops are created by rolling sugar syrup by hand. A timeless art form and a sweet treat that inspires through generations. Every part of the process is completed by hand and each lollipop is unique. The only additions are natural colours and flavours. All Pandora Bell lollipops are both gluten free and dairy free.  The Mint Wonderland Lollipop (80g): A Candy Cane on a stick complete with a beautiful swing tag and bow. A Cherry Christmas (80g): Traditional festive magic with a contemporary twist; a Cherry Christmas is a vibrant red lollipop bursting with a delicious cherry flavour.
Stockists: Pandora Bell RRP: £3.20
Pandora Bell Pates de Fruits Gift Box - The Festive Treasury
Pandora Bell's Pates de Fruits are made with 70% pure fruit. Gorgeously simple, the taste of fresh fruit bursts from every sweet. This classic French delicacy is gluten free, fat free and purely plant based - perfect for a vegan diet and made with no added colours or preservatives.  The Festive Treasury (240g): This collection contains a selection of the rich and varied fruits that encapsulate the joy and magic of the Christmas season with flavours including Sugar Plum, Clementine and Red Currant.
Stockists: Pandora Bell RRP: £11.50
Lismore Wild Atlantic Sea Salt Digestives
The Lismore Food Company, in Co. Waterford, brings together three artisan producers who all share a love of fine ingredients, and a lifetime of experience in food. In 2014, the 'three biscuiteers' combined their expertise to launch a range of fine sweet biscuits, and from there they have grown to include savoury options and chocolate. The Wild Atlantic Sea Salt Digestives are full of traditional flavours with a pinch of salt flakes hand-harvested from the clear waters of the Wild Irish Atlantic. A perfect stocking filler for foodies, these biscuits are divine on their own, delicious topped with sour cream and freshly chopped chives and perfect on a Christmas cheeseboard.
Stockists: Dukes Hill RRP: £6.50