DO YOU or your family come from County Cork? 
Did you, your mother, grandmother, aunt, sister or cousin work in the Thompson's House bakery in the 1950's?
Is she in this photograph?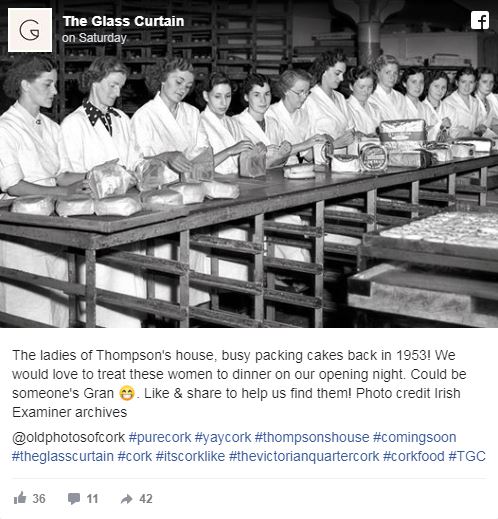 If so, you might want to get in touch by contacting their Facebook page here.
A new restaurant preparing to open in MacCurtain Street in Cork City have released a photograph of 13 women packing cakes back when the building was used as a bakery 66 years ago.
New restaurant Glass Curtain, which is currently preparing for its opening night, found the photograph in the Irish Examiner archives and now wants to find the women and treat them to a luxury meal.
In the Facebook post, the restaurant said:
"The ladies of Thompson's house, busy packing cakes back in 1953! We would love to treat these women to dinner on our opening night. Could be someone's Gran.
Like & share to help us find them!"
Three women have already been identified-- Chris O'Shea, fifth from the left just celebrated her 90th birthday according to her daughter Christine and son-in-law Tony.
Beside her is Annette O'Sullivan, as pointed out by her niece Catherine.
And Kathleen Teehan, second from the left was identified by her niece Deirdre.
It's a small world-- we hope these ladies enjoy their meal!