OK. That headline is a little misleading. The monkey himself wasn't actually piloting the plane - which crash-landed in Clonakilty, but he was an important member of the American crew who dropped out of the sky into a little seaside town in Co. Cork on a rather eventful April morning in 1943.
Before finding themselves surrounded by hundreds of fascinated Irish folk, the airmen in question had taken off from the United States in an aircraft named 'T'Ain't a Bird' and, after a short stop in Morocco in North Africa, were bound for England. However, they ran out of fuel over the Emerald Isle after a misleading radio report had thrown them off course.
On board, were 10 crewman, along with a monkey - Tojo, who they'd picked up in Morocco as a mascot.
As the story goes, the Boeing B-17 - dubbed the 'American Flying Fortress' - began circling the town of Clonakilty around midday on April 7, 1943.
The enormous plane, something few Irish had ever seen the likes of before, which flew so low that locals feared it would knock out one of the church spires, eventually headed out to sea before turning and landing on a marsh.
The crew inside had initially thought they'd crashed in German-occupied Norway, and were allegedly readying cyanide tablets they had to hand as the rescue party approached.
But after being assured that they were on friendly soil, and once their identities were confirmed, the crew, and Tojo, were soon welcomed with open arms.
Local businessman Thomas Tupper told the BBC that the crew were taken into police custody, but that "the custody consisted of them being in a local hotel where a party ensued for three days."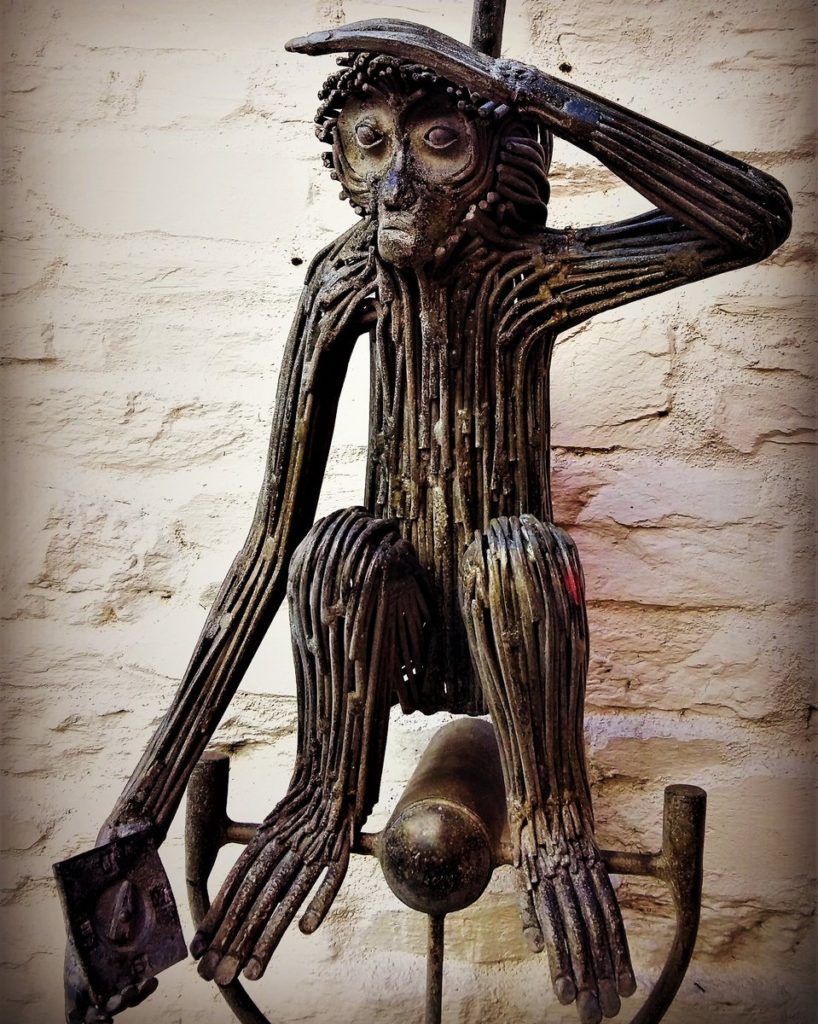 As the men and their monkey mascot settled into their new surroundings, they decided to share the 36 bottles of rum they had on board with the wide-eyed Irish men and women who came to see them - as well as with Tojo, who took a liking to the booze (he's got good taste).
"When we discovered they were Americans, there was great excitement in the town," said Dena O'Donovan, whose family ran the hotel where the crew were staying.
"There was a sort of carnival atmosphere for days. People took time off work to go to see this massive plane and the soldiers were like celebrities. But none were as famous as Tojo. No one had ever seen a monkey, so he was treated very well indeed."
Eventually, the call of duty interrupted the party and the crew were taken to Cork before being driven to Northern Ireland and handed over to the RAF. But one member of the crew was sadly unable to make the trip - Tojo.
Due to his taste for rum, the monkey, who had no doubt continually raised the spirits of American crewman and Irish farmers alike, contracted pneumonia, and despite the best efforts of local vets, doctors and even chemists, Tojo sadly died a few days later.
"People were genuinely devastated when he died. Some say his little body couldn't handle the cold in Ireland, others say it was the food. Monkeys have not been known to eat black pudding. But others have said he was given quite a bit to drink," added Ms O'Donovan.
Shortly after his death, Tojo was laid on a bed in one of the rooms in the hotel and hundreds of people queued up to see his body.
Sweetly, Tojo was given a traditional Irish wake with full military honours, offering a glimpse into the impact the little primate had during his brief stay.
Further still, in 2013 a statue of Tojo was unveiled in Clonakilty, where he and the American crew had made an emergency landing seventy years prior.
There's even been a local American Pale Ale named after him, to honour his drinking exploits!
His Irish excursion was a short one, but Tojo left a legacy that thankfully to this day hasn't been forgotten.