TOM CRUISE is about as all-American as it gets, right? Wrong! 
The Mission Impossible actor is actually a lot more Irish than most people probably realise.
And it' that same Irish heritage that has helped Cruise carve out a career as one of the biggest film stars on the planet.
Don't believe us? Here are just a few of his links to the Emerald Isle. 
1. Cruise's Irish ancestry dates back over 800 years.
Born Thomas Cruise Mapother IV, the Risky Business star is directly descended from the Cruise family, who first appeared in Ireland in the twelfth century.
2. A direct descendant of his invaded Ireland
A Cruise was among the knights who took part in the Anglo-Norman invasion of Ireland. Augustino de Cruce, helped conquer large swaths of land from the Irish under the leadership of Earl of Pembroke, Richard 'Strongbow' de Clare. 
3. Cruise's family were gifted land around Dublin
Several important Norse-Irish towns were seized during the invasion, including what we now know as Dublin, Waterford and Wexford. 
The Cruises were granted land in north Dublin for their efforts and established themselves in the area, remaining there for many generations.   
4. The Cruises clashed with Oliver Cromwell
The Cruises were one of several old English families who refused to conform to the Protestant faith and lost their lands in Ireland when they rebelled against Oliver Cromwell. 
Another was the Russells with the two families eventually bound together by marriage in 1766, as the Russell Cruises. 
5. The Cruises emigrated to Ireland in the 19th century
In 1825, Tom Cruise's great-great-great grandfather Patrick Russell Cruise married Teresa Johnson, emigrating to the US a year later. 
He eventually returned to Ireland after learning his land agent had forced several families out of farms on land he owned in Co Westmeath in 1843. 
Russell Cruise subsequently restored tenants to 500 acres around the townlands in Paristown and Dardistown in the years running up to the Great Famine when potato crops repeatedly failed. 
Remembered for his compassion for farmers on his land, he died in Dublin in 1849 having never returned to America. 
6. Cruise's family has several ties to Ireland
The youngest known child of Patrick Russell Cruise, Mary Paulina Russell Cruise, was born in New Jersey in 1832. 
She subsequently married Dillon Henry Mapother, an engineer from Dublin with family links to Co Roscommon, in 1858 and had several children before his death in 1874.   
At the time of her first husband's death Mary Pauline Mapother (nee Russell Cruise) was in her early 40s, with a large family to support. Within two years she remarried to Thomas O'Mara, a Wholesale Druggist, born in Kentucky of Irish parents.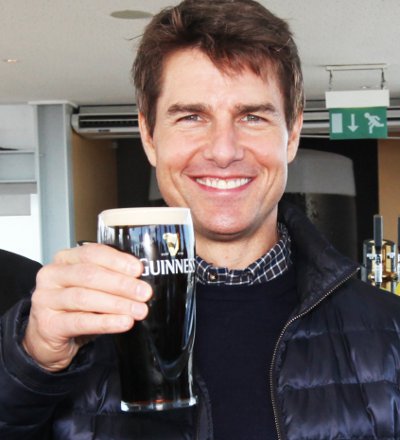 7. Tom Cruise's surname should actually be O'Mara
This second marriage produced one child – Thomas O'Mara jr. Who was born 29th December 1876, when his mother was 44. He is the great-grandfather of the actor Tom Cruise. 
Following his father's death, before 1900, Thomas O'Mara Jr. assumed the name Thomas Cruise Mapother with experts theorising that Mary Pauline encouraged him to do so, knowing knew that her children by her first husband were due a family inheritance, from the eventual sale of the Mapother estate in Ireland on the failure of male heirs.   
By the late 19th Century the Mapother estate amounted to 1,777 acres.