YOU CAN now rent an entire pub out in Ireland and it might just be best 'staycation' idea we've ever seen.
Conroy's Old Bar, in Aglish, Co. Tipperary has just been made available for rent on Airbnb, and you get the whole place to yourself!
Even though it looks like we're faced with the prospect of a largely pub-less Ireland for the remainder of the summer, this little place allows you to sit at the bar for as long as you like, with no social distancing required!
The pub is a known as 'the pub with no beer', but before you panic, it isn't what you think. It's a self-catering pub, which makes it also suitable for families who don't necessarily want to get drunk all week while staying there.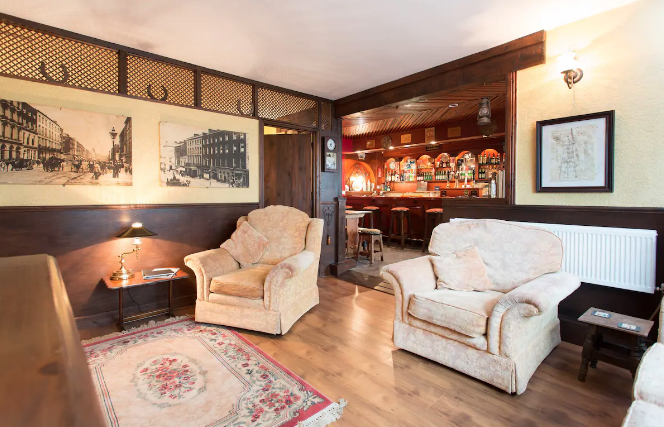 But if you fancied a good old piss-up, don't forget to bring your own booze with you!
Forget lockdown, this is the ultimate lock-in!
The converted village pub has a polished mahogany bar and open turf fire, a fully functioning kitchen and a lounge jam-packed with all of your favourite pub games. There's also an old beer garden and BBQ with amazing views over the Tipperary countryside.
We've all dreamt of being in a pub where can stay forever (no, just me?), well at Conroy's you effectively can!
You can be the landlord, you can be the bartender, you can be the drunk in the corner slurring his/her words like you usually are. The power's in your hands!
"At Conroy's Old Bar time has literally stood still," the listing reads.
"Guests experience a unique slice of Irish social history unfold before their eyes whilst staying in this truly unique accommodation.
"Being a discreetly converted, characterful, original village bar, and now completely dry of alcohol, makes it perfect for couples and families too.
"Set in the centre of Ireland, in sleepy Nth Tipperary village, close to Lough Derg & R.Shannon, it's off the beaten path, yet no more than 2hrs from any major city."
For further information, click here.