A DUBLIN pub-owner is in shock after anti-vaxxers sabotaged his business on the day indoor dining resumed in Ireland.
John O'Brien, who runs the Doheny and Nesbitt gastropub on Baggot Street, says "50 or 60" fake bookings were made on Monday in a blatant attempt to disrupt trading.
The culprits offered up fake names, phone numbers and email addresses to book out all the tables and ensure the pub would have no space for legitimate paying customers.
Speaking on RTÉ Radio One's Liveline on Tuesday, John says anti-vaxxers - unhappy about the new laws surrounding vaccine certificates - were responsible.
"Yesterday, there was about 50 or 60 emails, fake emails," he said.
"The woman who looks after the bookings, Helen, went through the emails, she sent all the emails back, and they all bounced."
John said his pub doesn't require customers to pay a deposit or hand over credit card details to make a booking, something he may be forced to do from here on out.
"We just take a name and a phone number. Anybody could be ringing."
John and his colleagues realised something was afoot when they started ringing round to get confirmation of everyone's bookings. Many who answered the phone had no idea why the pub was calling, claiming that they hadn't made a booking at all.
There are now fears that another hoax like this could destroy John's business.
"It's making it tough for us. We're following all the guidelines, and this is making it harder for our staff," John said.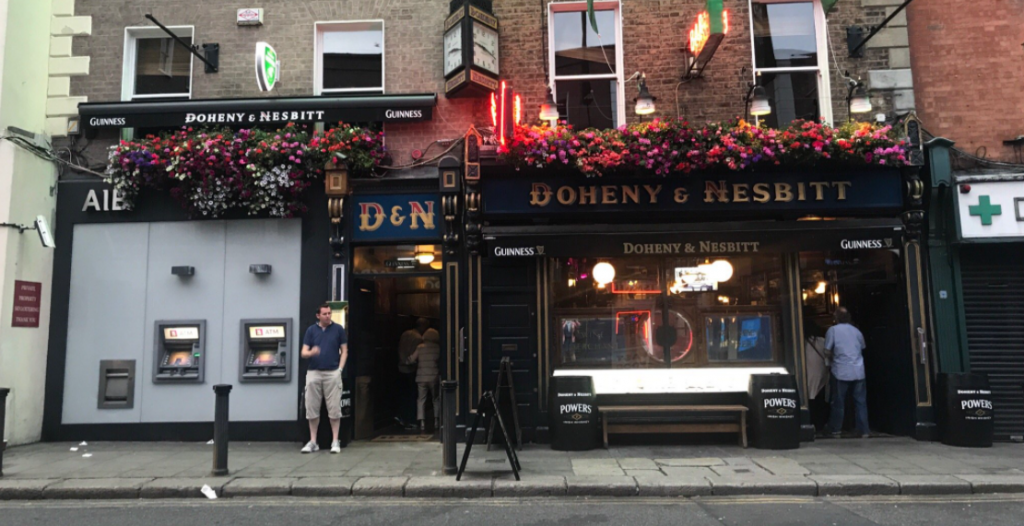 Strangely enough, not all of the details given to the pub by the saboteurs were 'random'.
Paula, who received a confirmation call from Doheny and Nesbitt after a fake booking had been made in her name, says that her phone number and email address corresponded with one another.
"I don't know where they got my details from, but the fact that they had them, and they used them to impersonate me to make what turned out to be a false booking, in my mind, it's despicable," she said.
"It's a malicious tactic to undermine the restaurant trade that are, to my mind, bending over backwards for this, to not discriminate. It's a well orchestrated campaign.
"I don't see why these people are pushing this, and being so destructive and malicious."
Earlier this month, legislation was passed declaring that only individuals with vaccine certificates may access indoor dining areas inside pubs, restaurants and cafés.
The rules are designed to allow Ireland's hospitality sector to reopen safely, following over 15 months of on-again, off-again closures.
But critics feel as though the rules are discriminatory, as they strip freedoms of those who either choose not to, or are unable to, take the vaccine.
Protesters took to the streets in Dublin following announcement of the legislation, while online threats were made to the likes of Chief Medical Officer Dr Tony Holohan and President Michael D Higgins.