BIRDS EYE has unveiled a brand new potato-based snack that's sure to go down well with spuds lovers old and young: sweet potato waffles.
A fresh twist on the familiar student/family favourite, these new frozen waffles contain a heady mix of lightly-seasoned sweet potato and traditional potato mash.
When combined they make for an exciting twist on the crispy-on-the-outside-fluffy-on-the-inside snack and mealtime favourite.
The new look potato waffles will go on sale at branches of Asda and Tesco from November 12th and are a little dearer than the standard potato waffles, retailing at €2 for a pack of eight.
Those who simply can't wait to tuck into one of these tasty savoury snacks can get their hands on them now through the online supermarket shopping service Ocado.
It's worth noting that their availability will depend on your location, of course.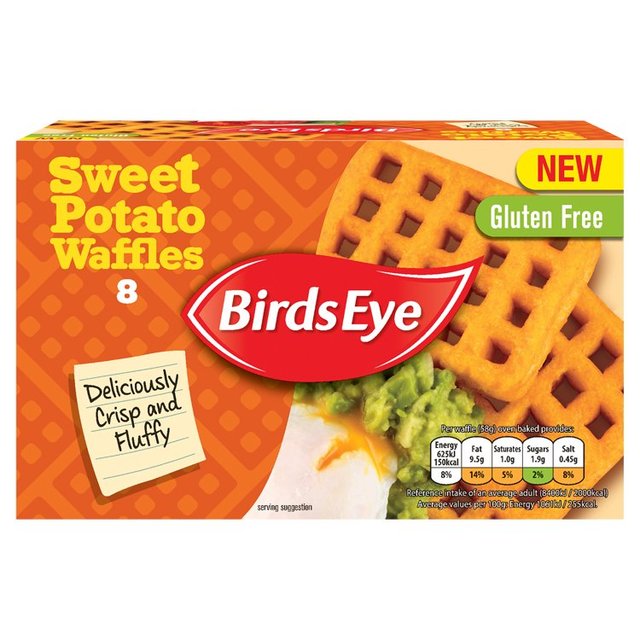 Speaking to The Sun, Birds Eye marketing manager Pete Johnson explained the company's decision to move into sweet potato products.
"We've seen a tremendous rise in the popularity of sweet potato, so we decided to give our classic Birds Eye Potato Waffles a modern makeover," he said.
"We combine the much-loved shape of our classic potato waffles with a delicious new recipe. We're confident that they will become a new family favourite."
Often viewed as a healthy alternative to the standard spud, sweet potatoes are a rich source of fibre and contain minerals like iron, calcium and selenium.
They are also a good source of vitamins B and C and contain high amounts of an antioxidant called beta-carotene, which converts to vitamin A upon consumption.
Around 80g of sweet potato - the equivalent of one medium potato - counts as one of your five-a-day, unlike white potato.