IRELAND faces the return of disruptive border checks like those in place during the Troubles should there be a Brexit victory on June 23.
Speaking to The Irish Post former President of Ireland Mary McAleese said that those who claim nothing would change in Northern Ireland if Britain exits the European Union were 'bluffing'.
The Belfast-born former head of state believes that if voters choose 'out' next week, it will have a visible and dramatic effect on the island of Ireland – setting it back politically and economically.
"Those who say to us 'don't worry nothing will change', listen to George Osborne, it will become a hard border because common sense tells you of course it will," Professor McAleese said.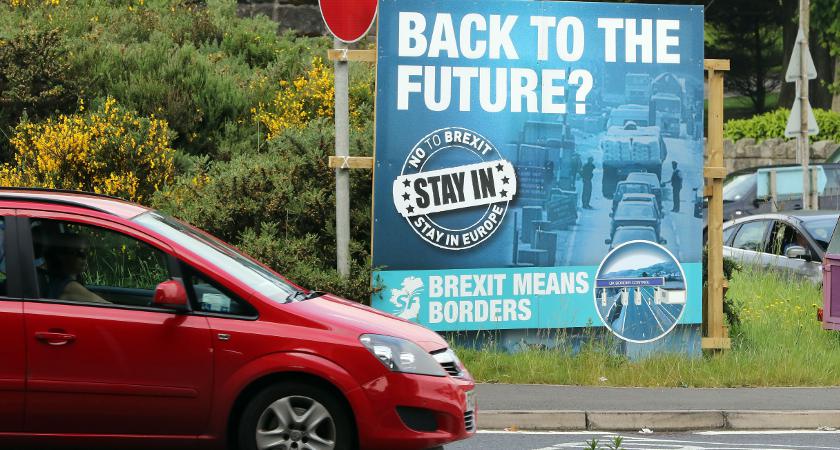 "Anybody who tells you that road will remain open on the same terms as it does today is simply bluffing because I don't know that and they certainly don't know that."
Professor McAleese has been living in London since January, when she took up the position of Distinguished Professor in Irish Studies at St Mary's University, Twickenham.
She said she will be voting to stay in the European Union twice next week, due to the fact her husband Martin, who will be in Ireland on polling day, has made her his proxy.
"I'll be voting remain," she said, adding that when she came into office in 1997 the Northern Irish border was the least commercially successful in Europe.
"A lot of that had to do with security and attitude, the EU took away a lot of the tariff rules and made it so much easier," she added.
"We were stopped at the border, his boot was checked, identities were checked - effectively we had to get a visa to enter the country my father was born in, which was next door"
Recalling her own experiences, she said a return to hard borders would be detrimental to people's ease of travel between the north and south of Ireland.
"I remember queuing up on Castle Street in Belfast for hours to get what was called a triptych, which we had to put on our cars rather like a tax disk, only it was a triangular document in order to get permission to cross the border," she said.
"My father made that journey every month, he was from the west of Ireland and on his only day off on a Sunday he packed the car full of his kids and headed to Roscommon.
"Every time he did that we were stopped at the border, his boot was checked, identities were checked - effectively we had to get a visa to enter the country my father was born in, which was next door."
She added: "That continued for a very long time and anybody who remembers the security on the border that paralleled the Troubles will know up until relatively recently if you travelled on the train, the customs office would be checking bags.
"It makes you uncomfortable and it's meant to, it's meant to disrupt, it's meant to inhibit, to stop and of course all the evidence is where ever you have those constrains industry slows down, commerce slows down, costs go up, tourism diminishes."
According to Professor McAleese, a vote to leave would put the 'organic neighbourliness' now shared between the two nations in jeopardy.
Politicians have warned that should Britain leave the EU, the open border between the south and North of Ireland could be used as a backdoor for criminals, traffickers and illegal immigration.
Before the Anglo-Irish Agreement those crossing the border faced armed checkpoints and delays, while country roads were often were blocked by concrete barricades.
Today, there are no checkpoints on the border, for those crossing either by foot or by car.
If a Brexit takes place, Ireland would inherit the only land border between the UK and the EU.
"At the moment you can't notice it, now that the security apparatus have been demolished thanks to the peace process we have open roads, those open roads are not thanks to anything except the European Union," Professor McAleese said.
"I travel regularly up the road to my mum in Rostrevor, to my relatives in Belfast, up and down to Derry, Armagh, you don't even notice and yet you're changing jurisdictions, currencies.
"On a small island like Ireland it's really very important that we have that opportunity for that organic spontaneous crossing of the border so that thing don't get clogged up."
While acknowledging there is a disconnect between the EU and the public, Professor McAleese maintains a union without Britain at the table would be a diminished one.
"What's happening in Britain is a siren call to Europe to reconnect," she said. "The outcome of this referendum will have a very powerful impact on the Irish in Ireland and the Irish in Britain.
"It's the one union we joined voluntarily and when we sit around that union table we exercise our sovereignty.
"Being on that stage has sharpened our identity. All of that is unnecessarily put at risk by virtue of a Brexit."