RUGBY and acting royalty was among the select crowd invited to join the Queen and President Higgins for Her Majesty's State Banquet at Windsor Castle this evening.
Daniel Day Lewis, Judi Dench and Fiona Shaw were among just 160 people dining in the Castle's plush confines tonight.
Sporting favourite Brian O'Driscoll and wife Amy Huberman were also in place for the White Tie event, hosted in honour of President Higgins' historic trip.
Northern Ireland First Minister Peter Robinson was also in attendance, sat between TUC General Secretary Frances O'Grady and Lady Helen Wogan, who joined her husband Sir Terry for the occasion.
Elsewhere in the opulent banquet hall, Sinn Fein's Martin McGuinness sat alongside civil rights campaigner Shami Chakrabarti and Nobel prize-winning geneticist Sir Paul Nurse.
Just yards away, outside the Castle's walls, protestors were calling for Mr McGuinness to be refused entry to the event.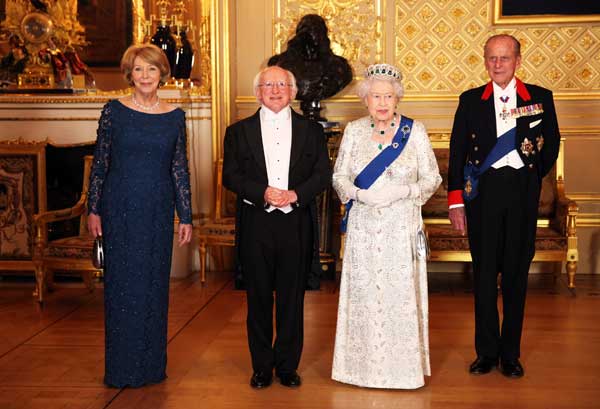 President Higgins joined the Queen to lead the procession into tonight's event.
Irish construction magnate Ray O'Rourke also joined the group, which saw former Prime Minister Sir John Major and former Irish President Mary McAleese in attendance with their spouses.
But all eyes were on the centre of the table, where the Queen, with her back to the window, sat alongside President Higgins, before the specially selected guests.
The Queen wore her Diamond Jubilee Gown, first worn in 2012 for the official jubilee photo.
The white silk and lace gown was designed by Angela Kelly.
Her tiara - the Grand Duchess Vladimir of Russia's tiara- bore droplets of emeralds, chosen specifically for the occasion. The Queen otherwise would wear pearls.
Prime Minister David Cameron and Taoiseach Enda Kenny led the political party among them, while Sally Mulready - the British-based representative on President Higgins' Council of State - offered a nod to the Irish community in Britain.
Philip Treacy and Louise Kennedy brought an additional sense of style to proceedings, while business heavyweights Martin Naughton and Peter Sutherland brought a dash of Irish entrepreneurialism to the room.
The group were served fillet of Isle of Gigha Halibut to start their meal, accompanied by young leeks and a fine herb sauce.
Their main course involved tornadoes of Windsor beef with wild mushrooms and a watercress purée.
Additional vegetables came in the form of purple sprouting broccoli with hollandaise sauce and a baked onion stuffed with parmesan and bulgar wheat.
Dessert came with an interestingly-titled ice cream bombe with a Balmoral redcurrant sauce.
All of which was accompanied by a range of fine French wines, champagne and port.
Guests were sat at a long table, with 77 seats along each side and three at both the top and bottom of the table.
Visit our special State Visit section here with news and features around the President's historic visit and the Irish in Britain
Buy tomorrow's Irish Post print edition for a special souvenir edition marking the Presidents' visit