A FORMER President of the Christian Solidarity Party has threatened those of the Irish public wearing repeal merchandise.
Cathal Ashbourne-Loftus, a former commandant at the Irish Defence Forces, took to his personal Facebook account to say his party would be targeting certain women fighting against the 8th amendment.
Still a member of the Christian Solidarity Party, or CSP as it's commonly known as, Ashbourne-Loftus shared a status revealing plans to be carried out by the CSP.
In the status, he wrote: "Tomorrow the CSP launches it's "Save the 8th" drive. We are targeting obstreperous young ladies in Repeal T-shirts who do not realise what they are letting themselves in for. Wish us luck!"
The word obstreperous, denoting 'noisy and difficult to control' shows the demeaning attitude the CSP have towards people fighting for a repeal of the 8th amendment voted for by the Irish people on May 25th.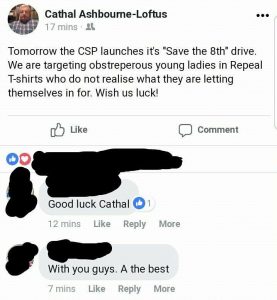 One group who replied to the claim of being obstreperous were Celbridge Together for Yes, a group mobilising for a Yes vote in the referendum later this month.
So Christian Solidarity Party are going to target obstreperous young ones. Bring it on. #celbridgetogetherforyes #repealthe8th #TogetherForYes #christiansolidarityparty pic.twitter.com/zrAj73Z7Sm

— Gorugeen (@gorugeen) May 14, 2018
Many people on Facebook also took issue with the Ashbourne-Loftus' claim of those doing activist work were hard to control.