DUBLIN CITY Council has urged members of the public not to hang coats on Ha'penny Bridge after those previously left were removed amid "health and safety" concerns.
Dubliners were previously asked to hang their unwanted winter coats on the bridge for the homeless to help themselves to.
Set up under an initiative called #warmforwinter, a sign placed beside the bridge's walkway read: "If you need one, please take one. If you want to help, please hang one up."
However, Dublin City Council subsequently decided to remove coats and jackets from the bridge.
The decision initially sparked outrage after a video circulated online showing the coats being removed, with some social media users branding it "disgraceful".
Advertisement
In a statement issued in the wake of the move the council explained the decision was motivated by "health and safety concerns" and specifically to "avoid obstruction and congestions occurring along a key pedestrian artery, crossing the River Liffey".
"It is the city council's duty to protect the public and prevent accidents from occurring on this footbridge, through any restrictions in pedestrian flow, particularly at this time of year when thousands of people use this bridge on a daily basis," the council said.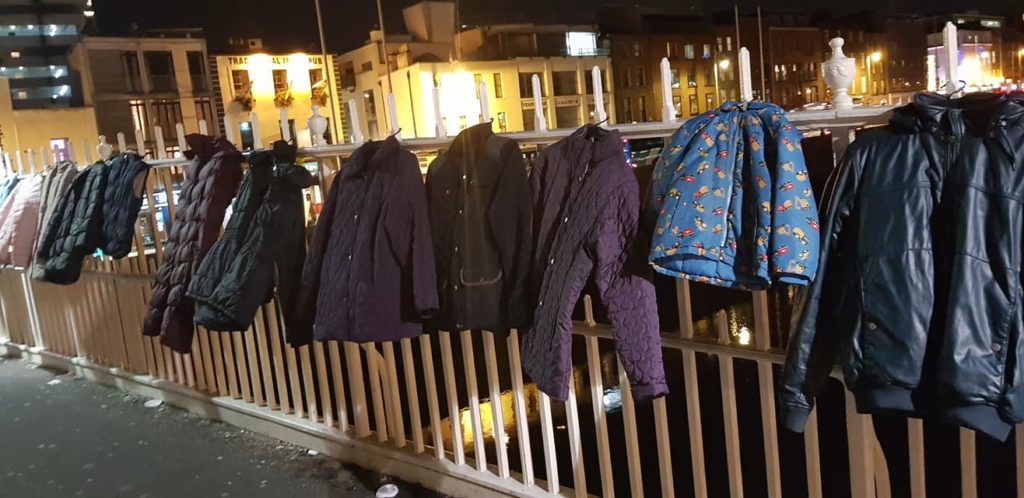 They added that the coats and jackets removed from the bridge are set to be redistributed through the council's homeless services.
Dublin City Council praised the "well intentioned call to action" but noted the forecasted "mixed weather conditions" meant the coats would have likely "become damp, rendering them unsuitable for use by anyone".
"Dublin City Council is very open to coming to an alternative arrangement, recognising the spirit of giving and generosity at this time of year," the council added
Advertisement
They are now working work closely through their existing channels and resources "to determine the best course of action in assisting with this initiative".