A DELIVERY driver dad has been left heartbroken after reading the letter his young son wrote to Santa Claus this Christmas.
The unnamed courier was handed the note by his son with a request that it be passed on to Santa and his helpers down in Lapland.
However, the hard-working dad couldn't sister having a sneaky peak at what his son had asked for ths year.
What he discovered, however, was a request that left him in tears.
Handwritten in pencil, the note was short but incredibly sweet.
It read:
"Dear Santa, I would really like to spend more time with my dad, so I would really love and appreciate it if you could help him get off work early because he is a UPS worker and people are ordering so many presents.
"So I would love it if you could help him in any way. Sincerely, Jonah."
Eager to spread a little Christmas cheer and provide a reminder of what the holiday is reall all about, the dad posted a picture the special message on Reddit.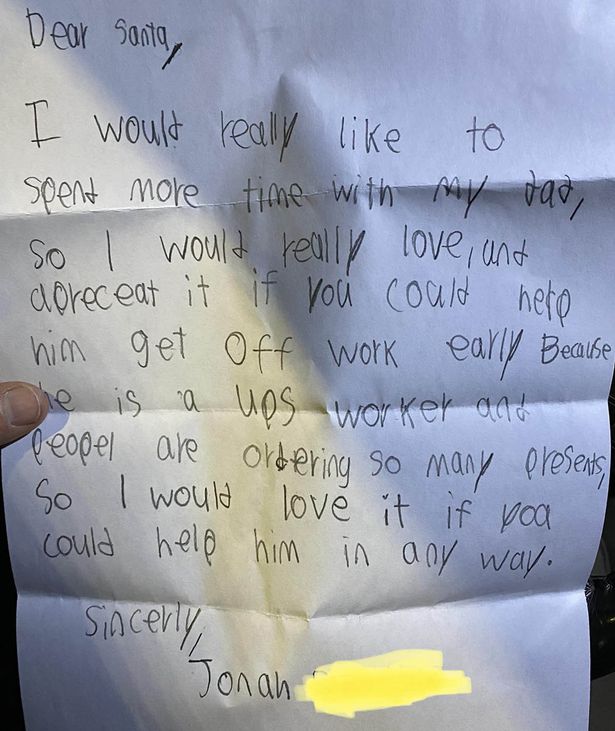 "I'm a UPS driver and I cried when I opened up our son's letter to Santa," he wrote alongside the image.
The note received an incredible reaction online with one commenter saying the message had "melted their heart" as their own dad used to work nights, meaning they didn't see each other all that much during their childhood.
Delivery drivers have been busier than ever this year, with the Covid-19 pandemic forcing many to remain indoors in order to slow the spread of the virus.
With many opting to shop online, companies like UPS have been flat-out while catering to the increased demand.
Here's hoping these unsung heroes can enjoy a well-earned break this December 25.