THE DUBLIN home of one of the leaders of the 1916 Easter Rising has been demolished despite Dublin City Council voting to make it a listed building.
O'Rahilly House, at 40 Herbert Park in Ballsbridge, was once home to Michael Joseph O'Rahilly, otherwise known as The O'Rahilly, who lived there prior to his death in the Easter Rebellion.
Last month, Dublin City Council voted to list the building as a protected structure.
An Bord Pleanála had previously given the green light to a €66m development that would have seen 105 luxury apartments constructed on the site.
Those plans were met with opposition from historians, An Taisce and the Department of Culture and Arts.
Dublin City Council eventually stepped in, granting the building protected status in a move that appeared to have scuppered plans for the new development.
However, the building has now been bulldozed to make way for the luxury flats.
In a statement, Dublin City Council said an investigation has been launched into the circumstances around the incident and has pledged to "take any appropriate action" once it
"has ascertained the facts".
The council added that "written on two occasions to the owners of the property requesting access for our conservation section to inspect the property to ascertain if it is suitable to be placed on the register of protected buildings. The council was not given access".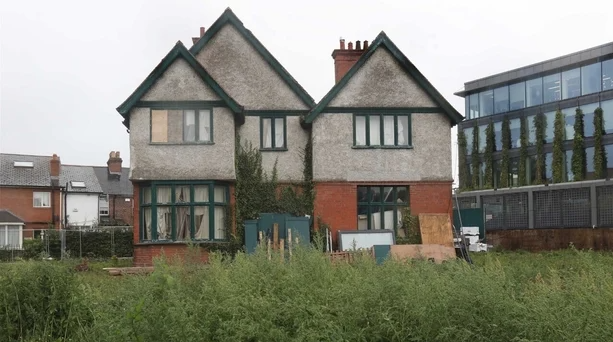 Sinn Féin TD Chris Andrews has expressed concern over the actions.
"It's really disappointing," he told RTE.
"it's a green light for developers to come in and knock our heritage and historical sites.
"Particularly in the light of the fact the council had started the process to list it as a preserved building - so there's question marks over the legality of it and that's something we'll be looking into."
Crowds gathered at the site to vent their frustrations at the bulldozing.
Taoiseach Micheál Martin has also condemn the demolition of the house, telling the Dáil that "iconic and historic locations such as this should be preserved or at a minimum incorporated into any new developments".
He told Aontú TD Peadar Tóibín: "I don't believe that buildings of this historic value should be demolished in such a manner."