THE LEAD singer of Italian Eurovision winners Måneskin has rejected claims he was seen taking drugs during the live broadcast of Saturday's Grand Final.
Damiano David dismissed online accusations he had been taking cocaine after footage surfaced on social media showing him leaning over a table as the band celebrated victory.
"I don't use drugs. Please, guys. Don't say that really, no cocaine," he told reporters at a press conference.
The singer doubled down on his defence by claiming he would "take a voluntary drug test after arriving home".
Måneskin had been favourites to win Eurovision with their heavy rock track Zitti e buoni.
Despite romping to victory, however, the band saw their moment in the spotlight marred somewhat by the drug-taking accusations.
Eager to put the story to bed, it has since been claimed that David was, in fact, looking down at the ground where his bandmate, Thomas Raggi, had just broken a glass.
Eurovision has since confirmed this version of events and are planning to test David for drugs to end any further speculation.
"This was requested by them last night but could not be immediately organised by the European Broadcasting Union (EBU)," they said in a statement.
"The band, their management and head of delegation have informed us that no drugs were present in the Green Room and explained that a glass was broken at their table and it was being cleared by the singer. The EBU can confirm broken glass was found after an on site check.
"We are still looking at footage carefully and will update with further information in due course."
Måneskin also took to Instagram to address the claims.
"We really are AGAINST drugs and we never used cocaine. We are ready to get tasted [sic], cause we have nothing to hide," they wrote.
"We are here to play our music and we are so happy about our Eurovision win and we wanna thank everyone for supporting us.
"Rock'n Roll never dies. We love you."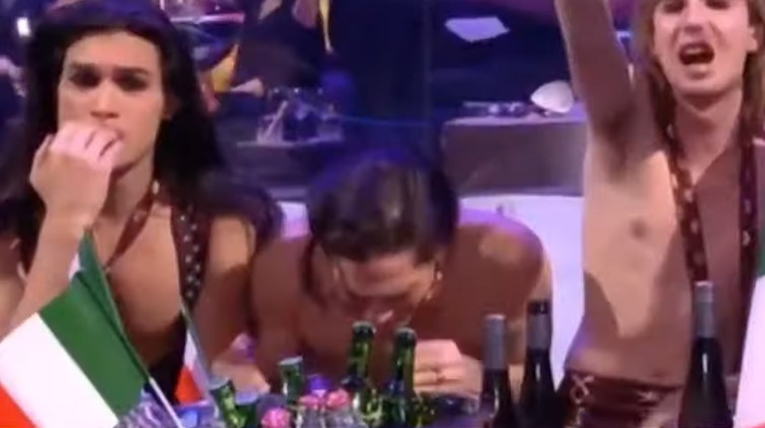 A crowd of 3,500 people attended the Eurovision Song Contest in Rotterdam to watch Måneskin's victory.
It was the first time since 1990 that Italy had tasted success in the competition and the first win for a group since 2006.
The band finished ahead of  France's Barbara Previ  whocame second with Voilà, while Switzerland's Gjon's Tears was third with Tout l'Universe.