SHOCKING footage has emerged showing a gang of youths launching a firework at a passing cyclist in Dublin.
The video, which was captured by a couple of cameras mounted to the cyclist's bike, was shot last month along Grand Canal Green Way in Clondalkin, near the 11th Lock.
The cyclist can be seen riding passed a group of youths, some wearing hoodies, who appear to be holding something emitting smoke.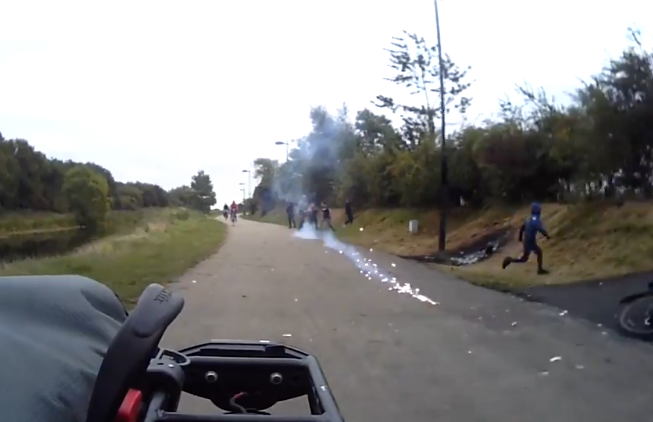 After passing them, footage appears to show the youths launching a firework in the direction of the bike, but it thankfully misses the target.
Further along the path, another youngsters approaches the cyclist, appearing to raise a bat or a stick of some kind.
The explosive video was shared by Clondalkin Neighbourhood Watch on Facebook today.
The group called for solutions to be found to make it safer for cyclists and pedestrians to use the Green Way.
Local TD John Curran slammed the behaviour of the thugs and said he had been in contact with the council in relation to the footage.
He said: "They [the council] have assured me that they continue to liaise with the gardai on this matter and that they will monitor their lighting and CCTV in the area.
"What is going on here is intimidation and a deterrent for people to enjoy the Green Way in the way it should be enjoyed."