THE internet had something of a field day yesterday.
Not only did a 16-year-old Scandinavian girl give a rabble of world leaders the biggest telling off they've suffered since leaving boarding school, she also bore a hole into the soul of President Trump - with a stare that even the most ill-tempered dog, who'd just ripped his way through that new €150 cushion-set you just bought, would whimper at the sight of.
As Trump swanned to the front the media dust-cloud at the UN climate summit, sapping attention and energy from those who were adoringly gazing at the Swedish teenager just moments before, Thunberg leered at him, so much so that you could actually hear her eyebrows crunching on the bridge of her nose.
Delightfully, it was caught on camera.
Presumably furious at this, Trump predictably did the most Trumpy thing imaginable, and decided to sarcastically sneer at a schoolgirl.
In response to video footage of Greta's impassioned speech at the summit, he tweeted: "She seems like a very happy young girl looking forward to a bright and wonderful future. So nice to see!"
'Nyaa nyaa,' he may as well have said, sticking his tongue out before uninviting her to his birthday party.
The Swede didn't reposed to the President directly, but she did change her Twitter bio, quoting Trump's incendiary tweet.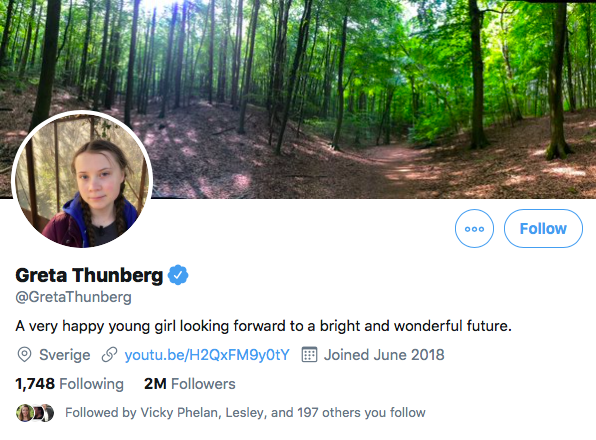 It now reads: "A very happy young girl looking forward to a bright and wonderful future."
The end is nigh people! There's officially public beef between a child and the leader of the free-world. Madness. Delicious madness.