GUINNESS IS pulling out all the stops this Christmas with not one but two limited edition Irish stouts. 
The new Guinness Imperial Gingerbread Spiced Stout and Guinness Imperial Stout, have both been aged in Kentucky Bourbon Barrels out at the Guinness Open Gate Brewery over in Baltimore in the US. 
Announced on International Stout Day, these two festive limited-edition stouts are here just in time for the cold winter weather and the Christmas period. 
Guinness Imperial Gingerbread Spiced Stout Aged in Kentucky Bourbon Barrels boasts an 11% ABV, and has been brewed with allspice, ginger, cinnamon, and nutmeg, then aged in bourbon barrels.  
Perfect during the festive break, the team behind the new brew reckon it is the perfect accompaniment to roasted pork with fig, vanilla panna cotta, or crème brûlée. 
Alternatively, there is Guinness Imperial Stout Aged in Bourbon Barrels which has been developed specifically with barrel-aging in mind, so it has a strong, robust body.  
With a 10.3% ABV, the stout provides a rich pairing experience and is perfect for steak, rib roast with rosemary and garlic or chocolate desserts.  
As with any Guinness, the best way to enjoy these new tipples is slowly and in moderation – especially with the double digit ABVs of both. 
"Barrels have been a part of Guinness brewing history for centuries, so we're excited to continue expanding on that tradition by becoming a center for the barrel-aging experience in the U.S.," said Sean Brennan, Senior Brewer at the Guinness Open Gate Brewery in Baltimore.  
"It truly gives us the chance to create, experiment and discover. We brewed Imperial Gingerbread Spiced Stout to evoke the warm, rich flavors of holiday spices, while we knew Imperial Stout needed to be showcased on its own after it was originally brewed as part of the Stock Ale blend last year."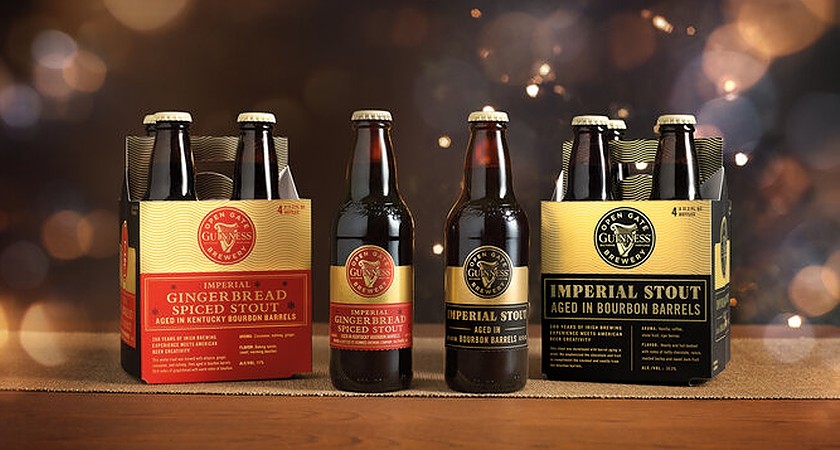 Guinness Imperial Gingerbread Spiced Stout and Guinness Imperial Stout can be found on shelves across the U.S. in 4-packs of 11.2oz bottles for a limited time. 
They will also be featured on tap at the Guinness Open Gate Brewery in Baltimore throughout the holidays. 
There is no word yet on whether the new additions will be available in the UK or Ireland with any shipping costs likely to crank up the price tag considerably. 
However, it is a sign that Guinness is getting in the festive spirit early, with more seasonal stouts and Christmas crackers on the way in the weeks that follow.