HBO HAS come up with the perfect accompaniment to a night of binge-watching Game of Thrones: a bottle of whiskey to match.
Hot on the heels of the Johnnie Walker White Walker whiskey, the American broadcaster has teamed up with some of Scotland's greatest distilleries to release eight new single malt scotches.
The Game of Thrones Single Malt Scotch Whisky Collection features eight Scotch whiskeys paired with one of the iconic Houses of Westeros, as well as the "Night's Watch".
The House Targaryen crest, for example, features on the whiskey produced by the Cardhu Distillery which was first established in 1824.
The House Greyjoy emblem features on the tipple produced by Talisker while Lagavulin, a distillery with a reputation for making some of the best scotches in the world, is presented under the banner of House Lannister.
Advertisement
There's even a Night's Watch whiskey which comes from the Oban Bay Reserve and is presented in a particularly stylish sleek, black bottle.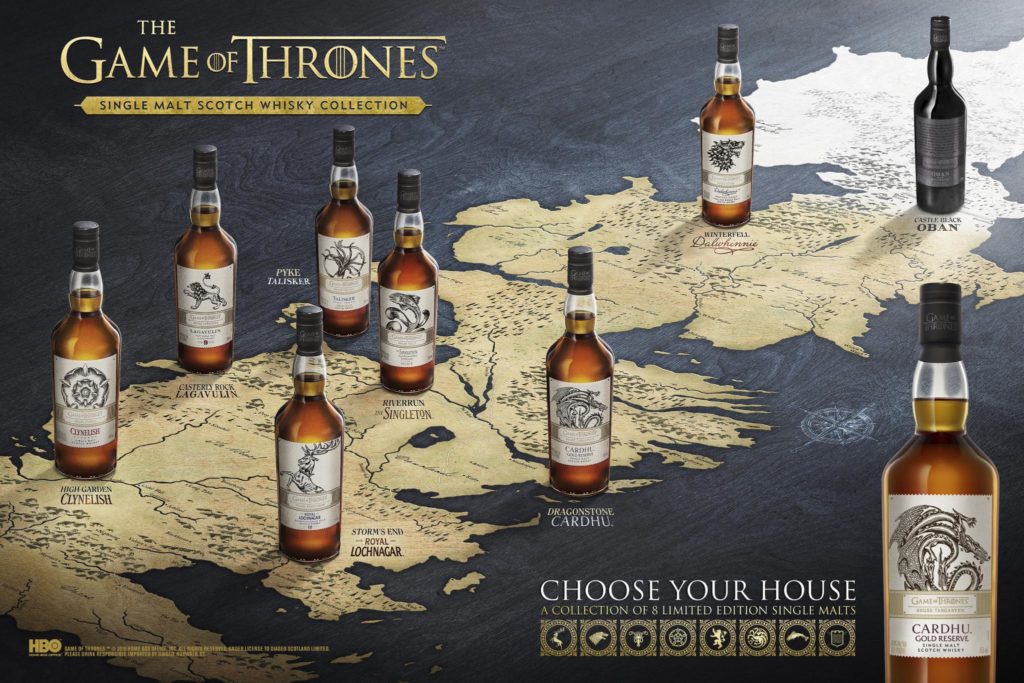 A total of eight different scotches have been produced which, coincidentally, matches the number of series Game of Thrones is set to run to.
The whiskies featured in the collection are as follows:
Game of Thrones House Tully – Singleton of Glendullan Select; Around $30 for 750ml; ABV 40%
Game of Thrones House Stark – Dalwhinnie Winter's Frost; Around $40 for 750ml; ABV 43%
Game of Thrones House Targaryen – Cardhu Gold Reserve; Around $40 for 750ml; ABV 40%
Game of Thrones House Lannister – Lagavulin 9-Year-Old; Around $65 for 750ml; ABV 46%
Game of Thrones House Greyjoy – Talisker Select Reserve; Around $45 for 750ml; ABV 45.8%
Game of Thrones House Baratheon – Royal Lochnagar 12-Year-Old; Around $65 for 750ml; ABV 40%
Game of Thrones House Tyrell – Clynelish Reserve; Around $60 for 750ml; ABV 51.2%
Game of Thrones The Night's Watch – Oban Bay Reserve; Around $63 for 750ml; ABV 43%
That makes them the perfect accompaniment for anyone looking to revisit the entire series ahead of the eighth and final season which is due to arrive early next year.
Just make sure you drink and watch the series in moderation – that's a lot of whiskey to drink in a fairly short space of time.
Advertisement
The new scotches are available in the US now and will arrive in the UK and Europe in February 2019.