AN IRISH AMERICAN MAN has died after jumping into a river to save a drowning girl in a Missouri river.
Jacob Farley heroically jumped in to save 21-year-old Madison Capps after he noticed her struggling against the strong current.
The 26-year-old leaves behind a three-year-old son, Kingston.
Farley was with a group on a boat on the Elk River when they floated past Madison and her friends swimming.
Jacob and his friends noticed that the swimmers were being sucked under by the currents and once it became clear that Madsison was in trouble, Jacob jumped in to help her without a second thought.
"I felt his hand on my back as I tried to get on my floatie after going under," Madison told The Miami County Republic.
"Just having him there next to me meant a lot. Without him there, I don't think I would have been able to hold on as long as I did."
Once he was in the water, Jacob and Madison battled against the current for around 30 minutes as the local fire department attempted to reach them.
They managed to pull Madison to safety with a rope, but tragically, Jacob disappeared under the water and didn't resurface. He was pronounced dead at the scene.
His friend Thaaron Gillis said: "When she [Madison] fell off, he just couldn't help himself anymore. Without thinking, he jumped straight into it, knowing that it was a dangerous situation.
"He fought more to try to help her than he tried to help himself," Gillis added. "His main goal when he jumped in was to make sure that she stayed above water.
"Jake is definitely a hero."
Madison took to Facebook to post a tribute to the man who gave his life to save hers.
"I will never forget the sacrifice you made. May your soul Rest In Peace.." She wrote.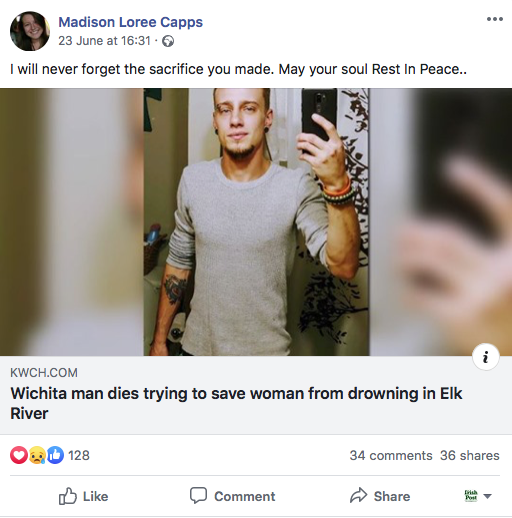 A GoFundMe page has been set up to cover the funeral costs for Jacob, and to provide for his son Kingston.