A TYNEMOUTH beach became a sea of green when 530 people broke the record for the largest ever human shamrock in England.
Hundreds of families turned up at Longsands beach on Saturday, March 19 for the northeast city's St Patrick's Day celebrations.
The Tynemouth Green Day – organised by local businessman Maurice Duffy – also included two charity runs, Gaelic football, Irish dancers and a ceilidh band.
Organisers had intended to break the Guinness World Record for the biggest ever standing human shamrock that was set by 815 students of Blackrock College in Dublin in 2013.
Around 1,000 were expected to attend the record-breaking attempt in Tynemouth last weekend, but only 520 people turned up.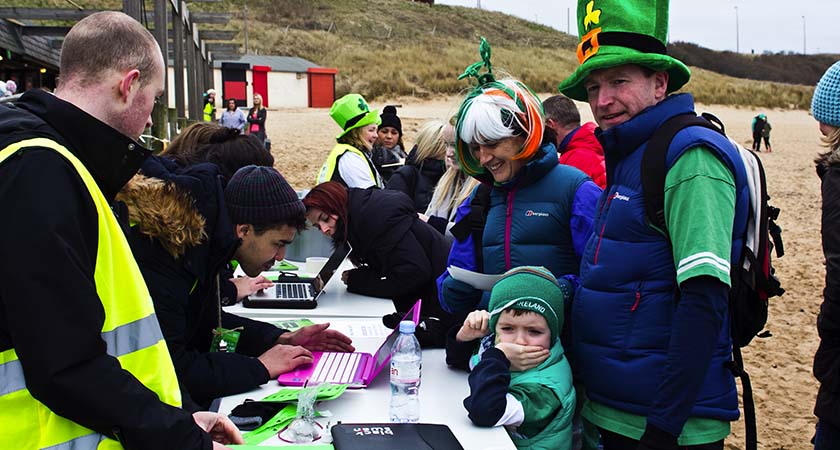 Advertisement
While the global record wasn't beaten, those that stood on the sand of Tynemouth beach in shamrock formation helped to achieve the English record.
Speaking to The Irish Post, Mr Duffy said: "While we didn't manage the Guinness World Record, we had a great turnout and broke the record in England. We'll be back bigger and better next year, we're already looking ahead to it."
The record-breaking feat was just one of the highlights of the day, which also included Moyra's Green Run – a 2.5km and 5km race that raised money for charity St Oswald's Hospice.
Around 250 people took part in the races, which were in aid of Moyra - the mother of Mr Duffy's wife Karen Lee - who suffers from progressive supranuclear palsy (PSP), a rare degenerative condition affecting balance, movement, vision and speech.
There were further fundraising efforts on the day, with a fancy dress competition for dogs and a 'spot the leprechaun' event raising money for the two chosen charities, that also included the Cystic Fibrosis Trust.