THE MOST ROMANTIC towns in Ireland have been revealed, and the results may surprise you.
With Valentine's Day now just a stone's throw away, we thought it'd be a neat idea to look into which towns in Ireland are considered the 'most romantic' in the country.
Quite what that means is anyone's guess, but fortunately for us Picodi.com have already cobbled together a list and saved us an afternoon's work.
As such, we can officially reveal that Athlone in Co. Westmeath ranks as Ireland's most romantic town.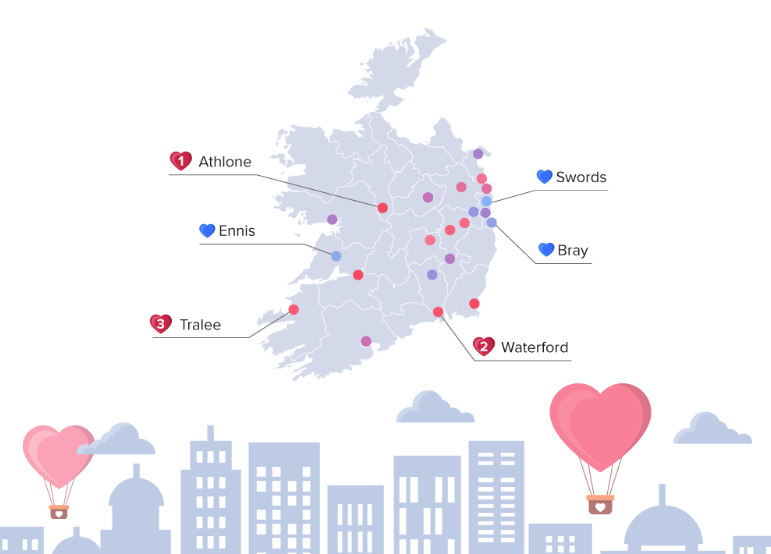 So to the people of Athlone: enjoy yourselves on Friday!
Following closely behind is Waterford, Co. Waterford and Tralee, Co. Kerry.
But how exactly is the list made?
Have their researchers established which areas of Ireland are filled to the brim with Cas O'Novas (get it?)? Have they ranked the towns in terms of their natural beauty or their value-for-money on candle-lit restaurant meals for two? Or have they simply taken a look at DVD sales of The Notebook and taken it from there?
Well, the answer is slightly less interesting than the above. In truth, Picodi decided to check the statistics of 'romantic' queries on the internet in Ireland's 22 largest towns.
They looked at which towns entered terms like 'Valentine's Day', 'love confession', 'flowers', 'love' - and others which would associate with Valentine's Day - the most into search engines, considering this to be a reflection of how romantic the town is.
Bringing up the rear on the list is Swords in Dublin, lagging slightly behind Ennis in Co. Clare and Bray in Co. Wicklow.
Below is the full list: