A BRAVE Irish lad has celebrated beating cancer in the best way possible, by spending it with his heroes in the Munster rugby team.
Four-year-old "Tom Tom" Cahill, from Co. Cork, started his first term of school a couple of days after, just to add to the celebrations.
Before joining his older brothers Jack, 10, and Charlie, 7, at Saleens National School, Midleton, for his first full day as a Junior Infants pupil, Tom Tom then received a superheroes' in the Munster dressing room at Musgrave Park on Friday before their match against London Irish.
The little lad gave the pre-match team-talk before high-fiving all the players in the tunnel as they made their way out onto the field.
He and his family then got to enjoy Munster's win in the VIP seats, before returning to the victorious dressing room after the match, where Tom Tom got to join in with a rendition of Munster's anthem 'Stand Up and Fight', just to cap off the day.
"The whole family got into the dressing room after the match and all of the team couldn't have been nicer. They performed Stand up and Fight with Tom Tom; it was absolutely awesome," explained his mother Paula Cahill according to the Irish Examiner.
"There was a great buzz and atmosphere," she added. "My husband Thomas and his brother Tony and our other two children, Jack and Charlie, were also there. They're all sports mad, and the team gave them all of their time.
"It was definitely a wish come true."
It would've been quite day of show and tell for Tom Tom on his first day at school and according to Paula, he joked that his "head was wrecked" from all the excitement of the dream weekend.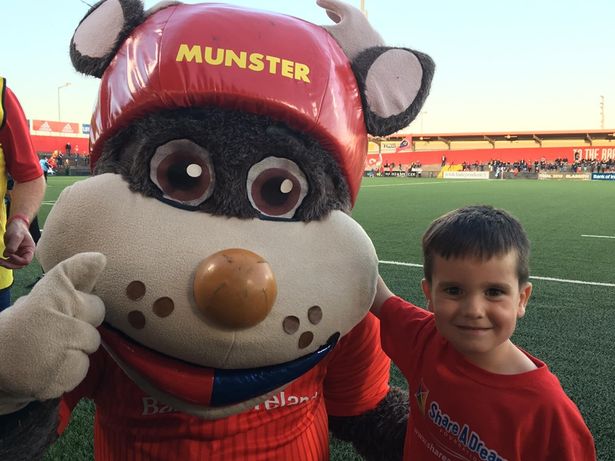 Tom Tom had his final chemotherapy treatment in August 2017, and is now in "a very good place, thank God", according to his mum.
He was first diagnosed with a tumour "the size of a grapefruit on his left kidney" aged 14 months.
"He could have turned in on himself but he's a bundle of energy. He just gets on with life," Paula said.
"He's an outstanding kid and we are blessed everyday he is with us."