LIAM NEESON has revealed how U2 frontman Bono helped convince him to star in his first film made in Northern Ireland in over a decade.
These days Neeson is better known as one of Hollywood's go-to action stars, thanks to the Taken trilogy and films like The Grey and A Walk Among the Tombstones.
He's not been in the habit of making domestic dramas of late but, as Neeson revealed to Deadline, that all changed when his good friend Bono sent him the script for Normal People.
According to the interview, Neeson has a rule when it comes to assessing scripts.
Basically, if he hasn't felt the need to get up and make himself a cup of tea after 10 minutes of reading, he knows it's worth a closer look. That was definitely the case with Normal People.
"I knew it was special," he told Deadline. "The subject matter is heavy but it's a beautiful love story. It's invested with Irish humour and it made me cry a little. I knew I had to do it."
Neeson also had a hand in getting Lesley Manville, star of the critically-acclaimed BBC sitcom Mum and Daniel Day-Lewis' final film, The Phantom Thread, passing the script on to her agent.
Written by acclaimed Irish playwright Owen McCafferty, who took inspiration from his own experiences, Normal People tells the story of Tom and Joan (Neeson and Manville) a long-married couple who suddenly find themselves having to contend with a breast cancer diagnosis.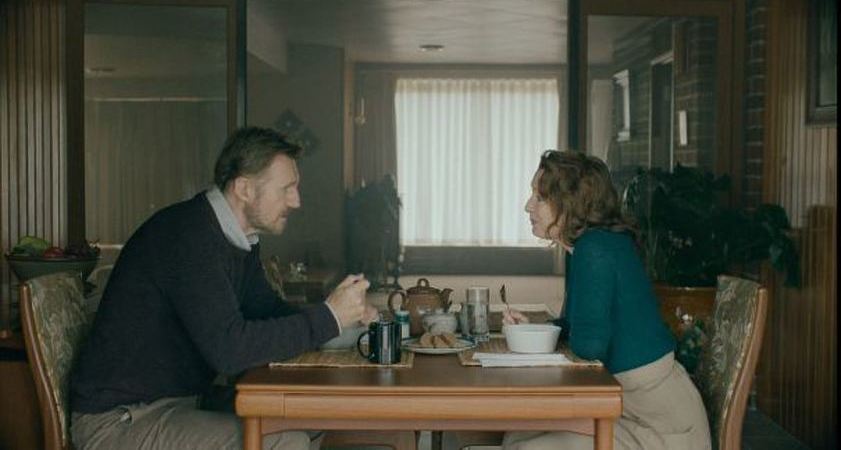 It was a subject matter close to Neeson's heart. Earlier this year the Irishman starred in the latest star-studded promo clip for the Stand Up to Cancer charity initiative.
"I've had four relatives who have died of cancer, three of them of breast cancer over the last few years," Neeson told Deadline.
Despite the serious nature of the subject matter, Neeson wasn't averse to poking fun at his action star persona during filming on the project, which is being directed by Lisa Barros D'Sa and Glenn Leyburn
"I joked on set, 'Please guys, let's just put one scene in where I beat up a doctor?' I'm sure there will be some in the audience expecting me to pull out a gun at some stage."
And anyone worried about the veteran actor going soft need not worry too much either - he's got another violent thriller on the way very soon.
Cold Pursuit will see Neeson playing a mild-mannered family man and snow-plow driver who soon finds himself going up against a Mexican drug cartel responsible for the death of his son.
The first trailer for this latest action effort, which has a surprising streak of irreverent humour, has just landed with the film set to arrive in cinemas on February 8th, 2019.
Normal People will arrive later next year.
Check out the full Deadline interview with Neeson and Manville here.