AN AMATEUR football club in Co. Limerick has hilariously offered Lionel Messi the opportunity to join them, just days after the Argentine megastar announced his intention to leave Barcelona.
Shountrade AFC, who play their football in the humble town of Kiltannon, drafted an email to the millionaire superstar, urging him to pick the delightful county of Limerick as his next destination.
The Barcelona forward will undoubtedly be exploring all options laid before him in the coming weeks, but the one from Shountrade may just be the funniest.
"Hola Mr Messi," the email begins.
"Considering the news that you intend to leave FC Barcelona imminently we would like to formally offer you a trial at Shountrade AFC.
"We have previously only had one lad on trial who punched a farmer and his calf at the Kilmallock Mart a few years ago but that's a different story and in his defence, that calf was a pr*ck."
The email then cheekily states that Mr Messi pass a trial with them before he's deemed worthy enough to don the famous blue shirts of Shountrade.
"Given a successful trial period you may be signed on a permanent basis subject to passing a medical.
"Now you may need to play ball on the day of the medical and change your name slightly coz we're tapping someone else's medical card.
"We have a team of record breaker too. We have a lad who can pick a four-prong fork with his toes and another lad who can cap 14 boiled eggs in a minute flat."
The Irish club goes on to offer him a "lucrative" 3-figure salary, along with a "state of the art" 1996 Ford Fiesta - which they admit is a bit rusty - before eventually offering him the number 9 shirt, as his preferred number 10 got mangled in the wash.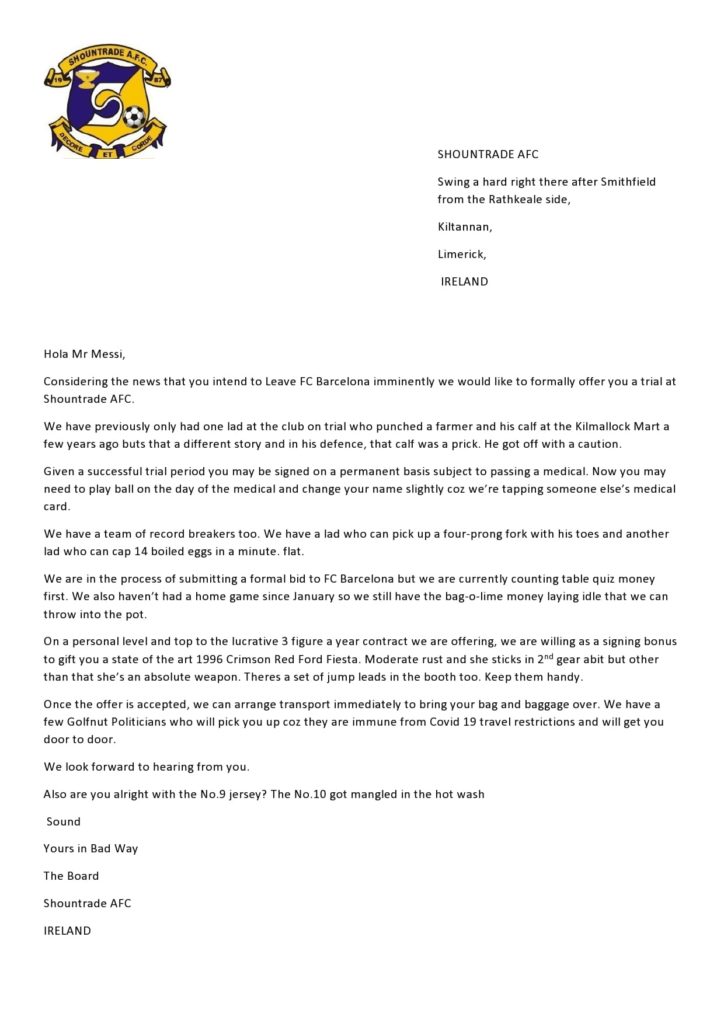 Not a bad offer.
Sure, Manchester City, Chelsea and Paris St Germain can offer him a swanky mansion and the finest cars money can buy, but at what other club will he be able to get a proper good serving of black and white pudding in the canteen every morning?
Messi rocked the footballing world earlier this week after signalling his intention to leave FC Barcelona - the club he's been at his entire career.
It's estimated that a transfer fee could cost in excess of €600 million, so maybe Shountrade should start thinking about setting up a GoFundMe page.
Contrary to reports.We have not agreed terms with Lionel Messi.but we are in advanced discussions with the lad I met selling sunglasses in magaluf last year who is bezza mates with lio and we are in the process of finalising our table quiz proceeds to submit a bid to @FCBarcelona

— Shountrade AFC (@ShountradeAfc) August 26, 2020