THERE ARE few things in life that the Irish do better than a good Sunday lunch.
And, as any good Irish cook worth their salt knows, it's all about the roast potatoes.
One of Ireland's most popular and enduring staples, the humble potato can be enjoyed in many different forms but few compare to the joys of a proper roast spud.
Warm, crunchy and uncommonly good, there are some among us who would probably be happy enjoying a plate of the golden-brown wonders with nothing else in between – naming no names, of course.
But in much the same way that the path to hell is paved with good intentions, the road to the perfect roasties is littered with lamentable attempts. 
One man is hoping to settle the debate once and for all with a simple roast spuds recipe he believes delivers perfectly crunchie carb-loaded delights. 
Best of all, he reckons it only requires three additional ingredients. 
Justin Taylor, a 40-year-old cook and Facebook foodie, has gone viral on the social media platform after sharing his foolproof recipe with fans. 
According to Justin, the trick is to use a mouth-watering combination of honey and mustard.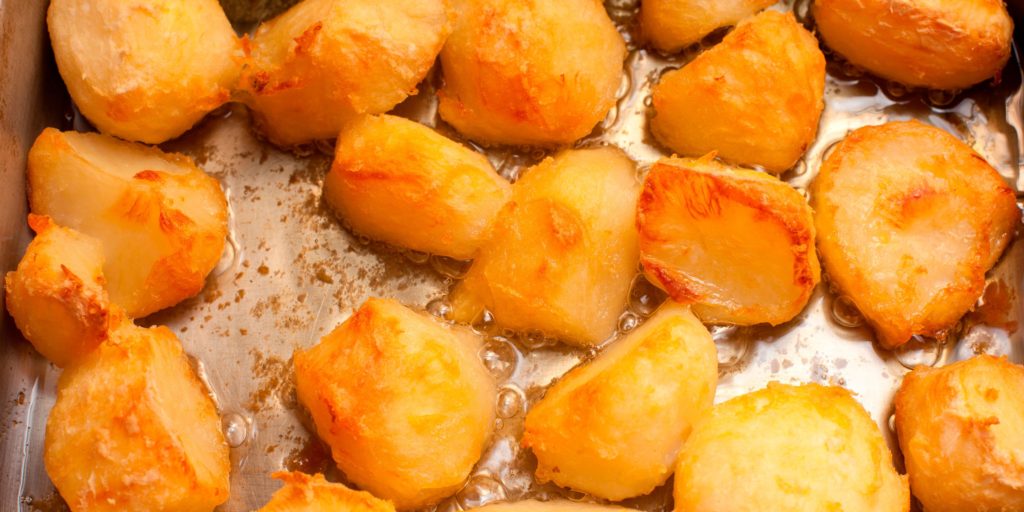 It all begins with the basics: peeling and chopping some white potatoes. 
Next, take a bowl and add two teaspoons of English mustard. Mix with grounded pepper until completely blended. Then, add four teaspoons of honey. 
From there, it's then on to pre-heating the roasting tray with oil and a further two tablespoons of butter and salt. 
Once hot, add the potatoes and baste your peeled spuds in the honey, mustard and pepper mixture. 
Cook the potatoes until roughly 20 minutes before they are due to come out of the oven. 
Then it's a case of basting them every five minutes until suitably crunchie and ready to eat. 
Does it work? Does this foolproof recipe deliver perfect roast potatoes? 
There's only one way to find out… 
 *Originally posted July 20 2020