POPE FRANCIS met with worshippers on Wednesday, and removed his face mask as he chatted to and even touched members of the congregation who had gathered to see him.
His Holiness insisted that the coronavirus pandemic would be defeated by "God's love" as he addressed the packed San Damasco courtyard in the Vatican.
The pontiff resumed his weekly General Audience for the first time in six months last week, and yesterday removed his mask once he stepped out of the car, and began shaking hands and reaching out to touch worshippers.
"The Christian response to the pandemic and to the consequent socio-economic crisis is based on love," Francis said in a sermon.
He added that we could emerge from the coronavirus crisis all the better by it "if we all seek the common good together," but warned that those who seek to selfishly take advantage of the situation for "partisan interests" must be guarded against.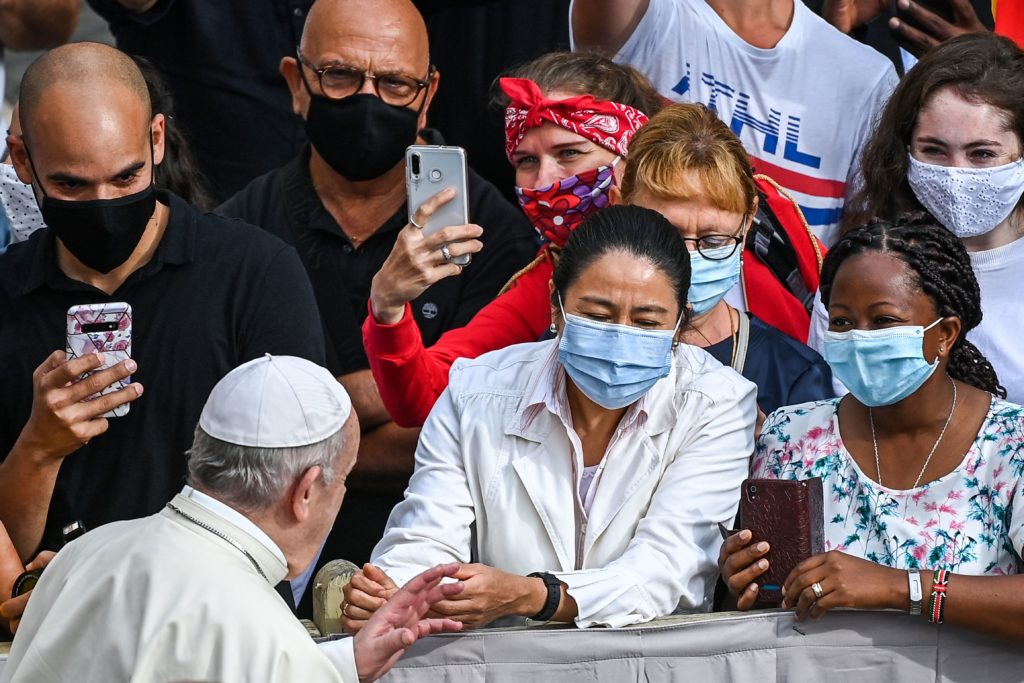 "A virus that does not recognise barriers, borders, or cultural or political distinctions must be faced with a love without barriers, borders or distinction," he said.
With God's help, Francis added, "we can heal the world," if we all strive alongside each other "for the common good."
"Thus, through our gestures, even the most humble ones, something of the image of God that we bear with us will be made visible, because God is the Trinity of Love." The Pope said.
Last week during Wednesday's General Audience, visitors had their temperatures checked as they entered the Vatican and nearly everyone among the audience of 500 or so wore masks, and sat in seats arranged to ensure social distancing.
It isn't known if temperature checks were carried out yesterday, but photos showed that masks weren't being used by everyone.