JOE BIDEN has signed his first executive orders, some of them reversing his predecessor's most controversial acts.
In his first day in office, President Biden singed a total of 17 executive orders, including rejoining the Paris Climate Accord, ending the immigration ban on a number of Muslim-majority countries, and keeping the United States in the World Health Organisation.
In what will be a major blow to Trump's legacy, Biden also signed an executive order calling for a halt to the construction of the US-Mexico border wall-- one of the promises which got Trump elected in the first place.
Other executive orders including making the wearing of masks mandatory on federal property, preventing discrimination against LGBT+ people,and extending the pause on college loan repayments.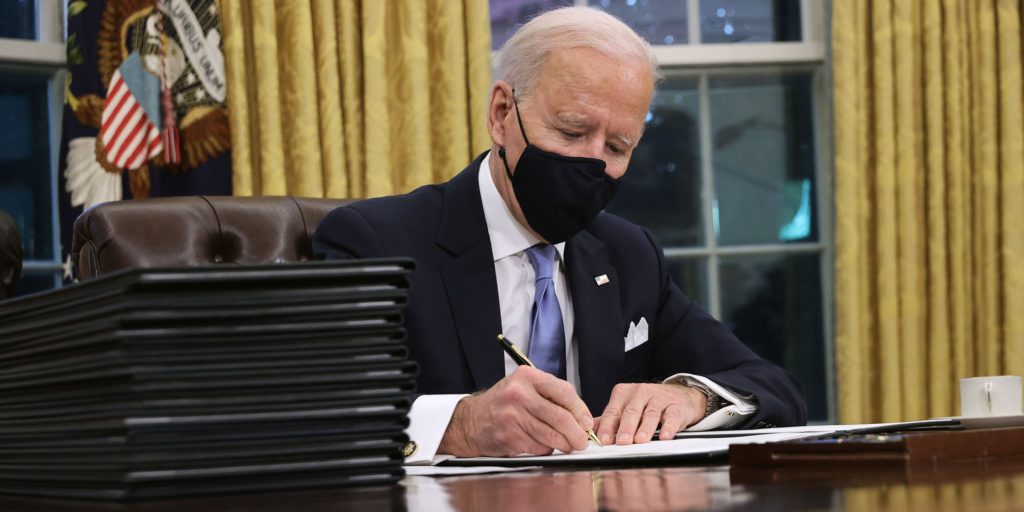 Advertisement
In a statement, press secretary Jen Psaki promised there will be much more to come, and the Biden administration "will be announcing additional executive actions that ... deliver on the president-elect's promises to the American people."
Mr Biden's order for the US to return to the Paris Climate Agreement was welcomed by leaders across the world, including An Taoiseach Micheál Martin, who wrote:
"Very welcome to see the USA rejoin the Paris Climate Accord on day one of the [Joe Biden presidency.
"Together we can make a real impact on climate change- and protect our planet for future generations."
The US has sent a letter to the United Nations requesting to rejoin the Agreement,a nd will formally re-enter 30 days later.
In a statement,the White House administration said:
"Our nation will be back in position to exercise global leadership in advancing the objectives of the Agreement, including keeping the world at a safe temperature."
Advertisement