PRESIDENT Higgins today paid tribute to the Irish staff members who have made important contributions to the NHS.
This morning the President and his wife visited the University College London Hospitals NHS Foundation Trust (UCLH), on the second day of the first official visit to Britain by an Irish head of state.
The President met around 20 Irish members of staff at the University College Hospital in London, including doctors, nurses, consultants and senior managers to show appreciation for their hard work.
Sir Robert Naylor, UCLH chief executive said: "It was a huge honour for UCLH to be chosen for this visit by the President of Ireland, and even more so when you consider that this was the first ever Irish State visit to the UK.
"We are incredibly proud of our multicultural workforce and our Irish colleagues play an integral part in making this one of the leading trusts in the NHS."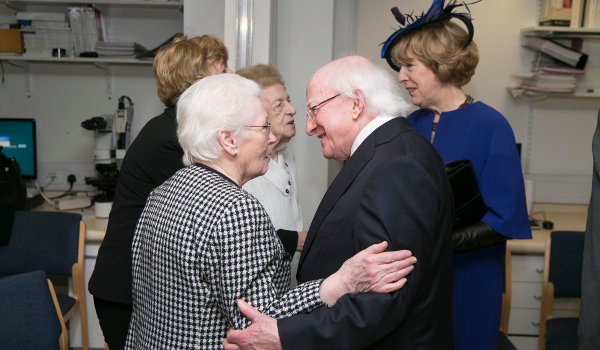 The President and his wife Sabina were first taken on a tour of the hospital's Elderly Medicine Ward.
This is a 38 bed ward specialising in acute care for complex elderly medical patients, many of whom will also have some form of cognitive impairment or dementia.
They were shown around by matron Josie Gladney, originally from St Mullins, Co Carlow, and ward sister Sharon Lynagh, from Athboy, Co Meath.
Ms Gladney said: "When people told me the President of Ireland was coming to University College Hospital I thought they were playing a joke on me.
"It's a once-in-a-lifetime opportunity and makes me really proud to be Irish, really proud of my heritage and really proud to show the President the great place where I work and the great work that we do at UCLH."
The tour continued with a visit to the Hyper-Acute Stroke Unit, which is one of eight London hyper acute stroke "hubs" that provide 24/7 care for all patients presenting with new stroke.
Mike Patterson, an intensive care consultant at UCLH who was born in Belfast but whose mother is from the Republic said: "I am Northern Irish, Irish and British, for me the President's visit is hugely significant. It is great to see the Irish diaspora being recognised in this way."