THOUSANDS OF ginger people are joining forces to try and break the world record for the most redheads in one place.
This Saturday, September 29th, the aptly named city of Orange in New South Wales, Australia, will play host to the record attempt as part of its annual Redhead Hunt 4 HD festival.
Now in its second year, the festival is a celebration of all things red and hairy.
And this year the organisers are pulling out all the stops to create a festival of ginger-dom that will live long in the memory.
The result is this most unique of world record attempts.
Redhead Hunt 4 HD festival will be hoping to attract redheads everywhere to the festival.
They will need to have 1,672 redheads in attendance to break the current world record.
That record was set in Breda, in the Netherlands, back on September 1st, 2013 by Stichting Roodharigen zijn kunst.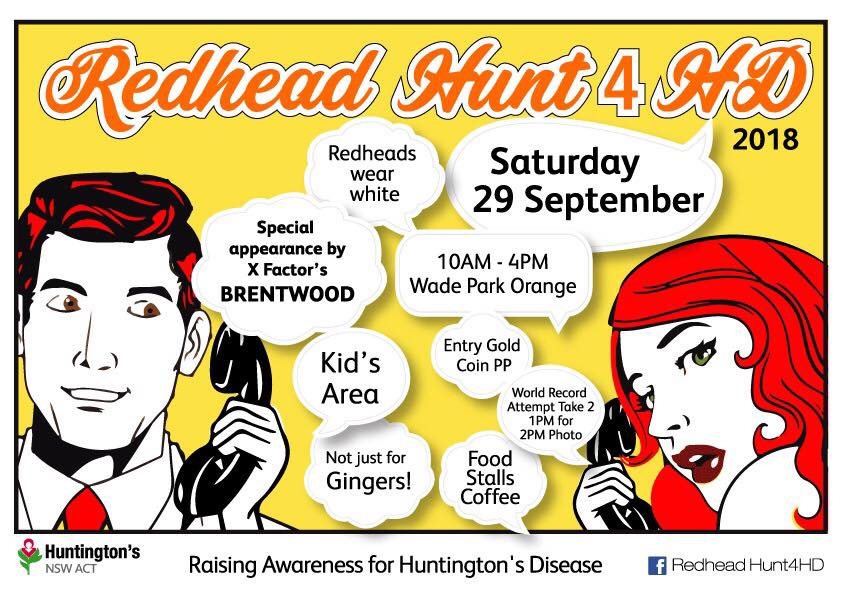 More recently, a redhead get-together in Germany saw thousands of ginger people gather together in Hamburg.
Ireland also played host to an event that saw the King and Queen of Gingerdom crowned as part of an event that saw 1,000s of gingers descending on the Emerald Isle.
However, in this instance, the organisers of Redhead Hunt4HD have their work cut out for them: last year they were only able to attract 769 gingers to attend.
Running from 10am to 4pm, the official ginger count is taking place at 2pm.
Any and all redheads in attendance are required to wear a white top as part of the record attempt.
Non-redheads are also invited with the event raising money for Huntington's Disease.