TV talent Síle Seoige will host an incredible new Music Awards event to get the party started in Ireland this summer.
Supported by IMRO, the first ever Irish Post Music Awards take place on June 7 in the INEC Killarney, Co. Kerry.
The momentous event launches as The Irish Post reveals its exciting new digital platform Irishpost.com.
Síle Seoige, who is one of Ireland's most recognisable television presenters, will take to the stage for an amazing night of Irish music in Co. Kerry.
"We're known around the world, not just for great music but great storytelling and artistic ability," she said. "To be recognised and to get that recognition at an Awards ceremony like this is so important.
"Killarney is a great location, the INEC is a great venue. I'm really excited. It's always fun to be involved in big shows, where you're doing something exciting and new. I'm really relishing the thought of it."
The inaugural Irish Post Awards follows the launch of Irishpost.com in March.
For the latest viral videos, news and events or the hottest musicians performing live from the Vault Sessions, irishpost.com is THE new digital site for the Irish.
Whether it's an epic Rattlin' Bog sing-off at an Irish wedding or Fusion fighters bringing the house down, The Irish Post has what you're looking for.
With over 1.2million followers on Facebook, more than 50million people a month are discovering the best Irish news, views and entertainment with The Irish Post.
As one of the top Irish publishers on social media, don't be surprised if you see Hudson Taylor and The Coronas or Ed Sheeran and Bob Geldof pop up on your screen.
Now live, irishpost.com cements The Irish Post as a leading digital publisher for the global Irish. But don't take our word for it – or for that matter the 2million visitors to our site each month.
The Irish Post Music Awards will build on the success of irishpost.com and previous Irish Post events by bringing the best Irish performers to music fans in Ireland.
Ten of the country's top acts will perform under one roof for one incredible night of Irish music on June 7.
With awards in nine categories, including Best Country, Best Folk and Best Pop/Rock, a Lifetime Achievement Award will also be revealed on the evening.
Winners will be picked by a panel of distinguished judges and a public vote.
Best Singer/Songwriter, Best Album and Best Single will also be honoured on the evening alongside a Best Indy Award and Outstanding Contribution to TV/Radio.
Singer-songwriter Malachi Cush will co-present this celebration of Irish music to a packed house in the iconic INEC from the heart of Killarney.
"I'm really looking forward to The Irish Post Music Awards and am excited to not only be co-hosting the event but also to see the many amazing performances scheduled for the night," he said.
"Events like this also serve as a fantastic showcase for the current music scene in Ireland. The Irish Post alongside the broadcast partners at TG4 will ensure a great number of people have the chance to enjoy the best of Irish music."
The live 90-minute show will also be broadcast on TG4.
TG4 Director General Alan Esslemont said the station is delighted to be building on their successful collaboration with The Irish Post through this new initiative around The Irish Post Music Awards.
Irishpost.com
Check out our new look website today for live broadcast, original video content, the latest news and our brand-new podcast series London Calling.
The Irish Post has been the Voice of the Irish for the last 50 years and now online we're a leading Irish entertainment, celebrity, sport, news, travel and business platform for a growing global Irish audience.
With 3million page views a month, irishpost.com is creating a new community for the Irish abroad.
Sarah Murphy, Director of Commercial Operations for The Irish Post Media Group, said: "Our new-look website and rebrand to Irishpost.com has been inspired by an ever-growing global community of Irish people.
"Irishpost.com will entertain and engage to create a powerful conversation online.
"We've been on an exciting journey over the last 18 months and now with our talented, motivated and forward-thinking digital and commercial teams, we have repositioned our brand as the leading media platform for an information-hungry global Irish audience.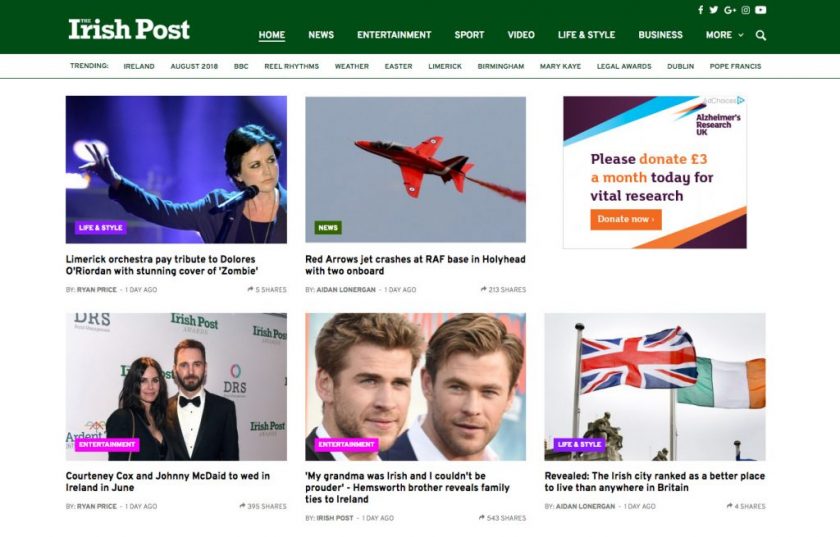 "We have the knowledge and expertise to target client campaigns to regions, socio-demographics and behaviours and re the front-running outlet for premium brands and agencies.
"Irishpost.com will allow clients to put their offerings in front of a global Irish audience."
Among The Irish Post's annual events are The Irish Post Awards hosted by Eamonn Holmes in London's Park Lane and The Irish Post Country Music Awards held in Ireland.
Previous guests and honourees have included Bob Geldof, Johnny McDaid, Courteney Cox, Baroness Karren Brady, Roy Keane, Martin O'Neill, Louis Walsh, Jonathan Rhys Meyers and Dara O'Briain.
The inaugural Irish Post Music Awards are due to be held in June 2018 in Killarney, Co. Kerry.
The Irish Post also teams up with some of the biggest Irish festivals and events in Britain, including the Mayor of London St Patrick's Day Festival and the GAA All-Britain Competition.
The Irish Post also publishes a weekly newspaper in Britain with a readership of 80,000.
It is also home to a series of business magazines including Building Britain, which promotes the Irish construction industry; Companies100, a guide to the top one hundred Irish companies in Britain; and In Business – the go-to list of Irish business leaders across Britain.