ACTRESS AND former MMA fighter Gina Carano has been fired from the hit Disney+ Star Wars spin-off series The Mandalorian after comparing being a Republican today to being Jewish under Nazi rule. 
Lucasfilm has confirmed Carano will not return for the upcoming third series of the hit series after a series of social media posts they branded "abhorrent and unacceptable". 
The 38-year-old had been the subject of a major backlash on social media in the wake of the controversial post with the hashtag #FireGinaCarano trending on Twitter. 
Carano reshared to her Instagram story a photo of a Jewish woman in her undergarments screaming as she ran away from men and young boys armed with clubs.  
The image is from 1941 during the Lviv pogroms, where Jewish men and women were massacred by their own neighbors in what is now Ukraine due to German influence in the area. 
"Jews were beaten in the streets, not by Nazi soldiers but by their neighbors…even by children," the post, which was created by another user, read. 
"Because history is edited, most people today don't realize that to get to the point where Nazi soldiers could easily round up thousands of Jews, the government first made their own neighbors hate them simply for being Jews. How is that any different from hating someone for their political views?"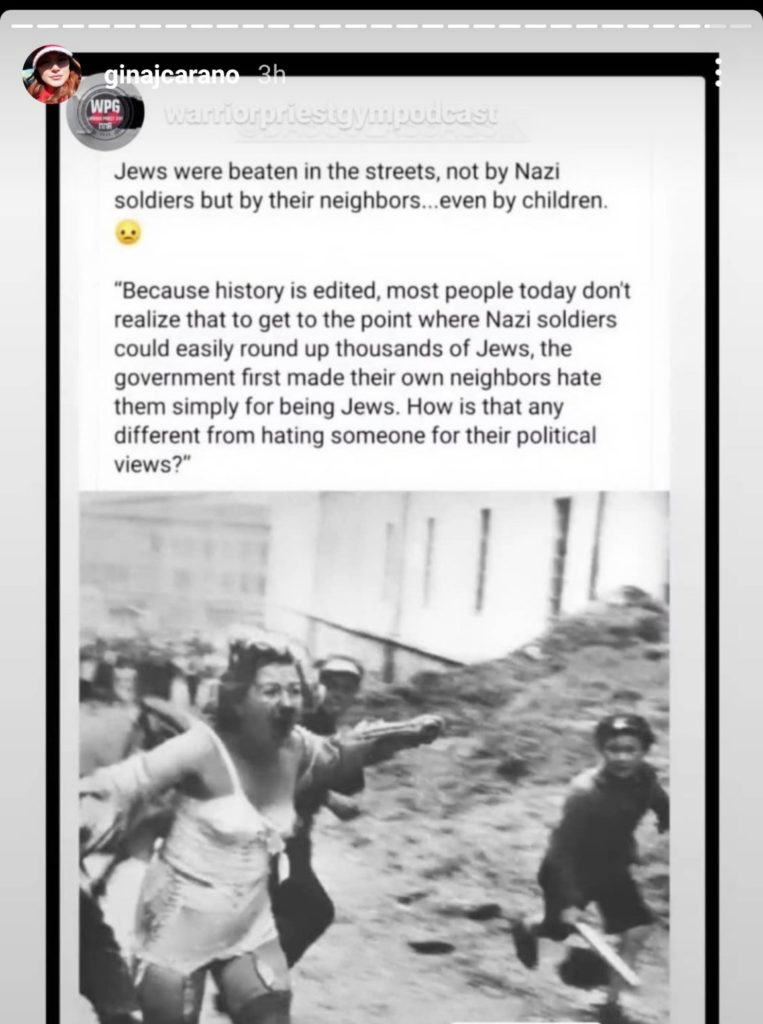 After becoming aware of the statement, the Disney-owned Lucasfilm opted to sever ties with the star. 
A company spokesperson said: "Gina Carano is not currently employed by Lucasfilm and there are no plans for her to be in the future, nevertheless, her social media posts denigrating people based on their cultural and religious identities are abhorrent and unacceptable." 
According to Variety, Carano has also been dropped by United Talent Agency as a client. 
There had been speculation her character from The Mandalorian, Cara Dune, would feature in the latest Star Wars TV spin off Rangers of the New Republic. That now appears unlikely. 
A former fitness model known for films like Deadpool, Haywire and Fast & Furious 6, Carano has previously courted controversy with her political views on social media. 
She previously drew criticism for mocking people who state their preferred pronouns and in November endorsed Donald Trump's unsubstantiated claims that the US presidential election was rigged. 
Carano has also openly mocked the wearing of masks in public during the pandemic.