UPDATE: Tom Ward has been located!
Original poster John Ward has thanked The Irish Post and everyone who shared the article for their help in locating his uncle Tom.
Mr Ward is now in Galway and has reunited with his family and brother.
*******************************************************************************************************
A FAMILY based in Galway have launched an urgent appeal to get in touch with their uncle, Tom Ward, whose brother is seriously ill.
Advertisement
The family have not been in contact with Galway-born Mr Ward in approximately a year but say now they are "desperate" to get in touch with him, as they "want to let him know his brother is very ill".
Mr Ward is apparently known to attend Irish centres around London, but the family don't know which ones as there are multitudes in England's capital city.
Launching their appeal on social media sites such as Twitter and Facebook, nephew John Ward has described this as a "last desperate attempt to find him".
The Facebook post alone has been shared over 1,000 times, but still Mr Ward has not been found.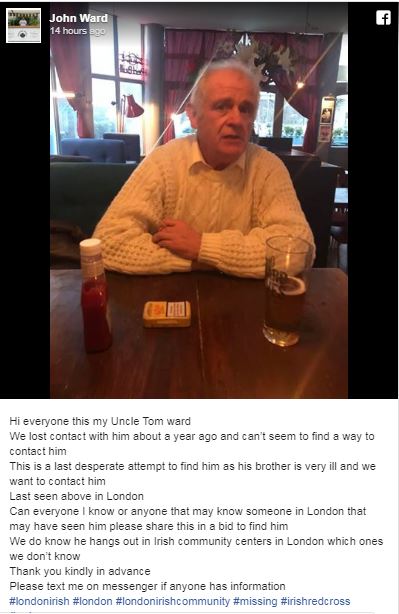 The post in full reads:
"Hi everyone this my Uncle Tom Ward.
We lost contact with him about a year ago and can't seem to find a way to contact him.
This is a last desperate attempt to find him as his brother is very ill and we want to contact him.
Last seen above in London.
Can everyone I know or anyone that may know someone in London that may have seen him please share this in a bid to find him.
We do know he hangs out in Irish community centers in London which ones we don't know.
Thank you kindly in advance.
Please text me on messenger if anyone has information."
Advertisement
If you have seen Mr Tom Ward or have any information on his whereabouts, his nephew John has asked that you message him on his Facebook page.