FOR THREE years before this year's Munster final, Ger Loughnane had been giving it to Eamon O'Shea in the neck.
In his newspaper columns, Loughnane consistently returned to the same themes in his rap sheet against O'Shea; failure to win a trophy; failing to develop a hard enough edge in his team to be able to beat Kilkenny; failing to develop a ball-winning half-forward line outside of Patrick 'Bonnar' Maher.
Before they played Limerick in June, one of Loughnane's biggest criticisms of O'Shea resurfaced. "He has been too loyal to the old guard who were with him back in the mid-noughties," said Loughnane. "In my opinion, he hasn't done enough to encourage and develop the very talented younger brigade who did so well in last year's U-21 championship."
Was that fair comment? Loughnane first started on that theme after Tipp's opening day league collapse against Dublin. He argued that Michael Breen, Ronan Maher, Bill Maher and John McGrath "should have been blooded long ago". Yet they appeared more as the league progressed. Three of those four got game-time against Limerick while Breen and Maher started the Munster final against Waterford. So did Jason Forde and Cathal Barrett, who have also become an important part of O'Shea's machine now. Two more of last year's U-21s, John Meagher and Barry Heffernan, have also been part of O'Shea's plans. Although the team is still built around experienced players, a new team has emerged under O'Shea.
It has taken time to build and there were times when Loughnane had a point. O'Shea did give opportunities to new players against Limerick in the 2013 Munster semi-final (his first match in charge) but when Tipp squared up to Kilkenny in a do-or-die qualifier a month later, returning for some of his more experienced and hardened warriors was understandable for the bear-pit of Nowlan Park.
An early season exit still seemed to pave the path for a squad overhaul in 2014 but only a handful of fringe players were let go. Most of the 16 new players brought into the squad got game-time during the Waterford Crystal Tournament but in Tipp's opening two league games, only one debutant started.
The threat of relegation during the 2013 and 2014 league campaigns restricted O'Shea's hand but as the 2014 season progressed, Tipp began to forge a new identity. New faces emerged. Cathal Barrett, James Barry and Niall O'Meara broke through. Darren Gleeson, Kieran Bergin and John 'Bubbles' O'Dwyer firmly established themselves. O'Shea handed Seamus Callanan greater responsibility and he flowered into Tipp's marquee forward. And crucially, the golden minor crop of 2006-07 took greater ownership of the team.
Given the situation O'Shea walked into in 2013, he was bound to show loyalty to the older crew who had served him so well as coach between 2008-'10. Yet as the team began to evolve, most of those old warriors departed; Eoin Kelly, Brendan Cummins, Paul Curran, John O'Brien.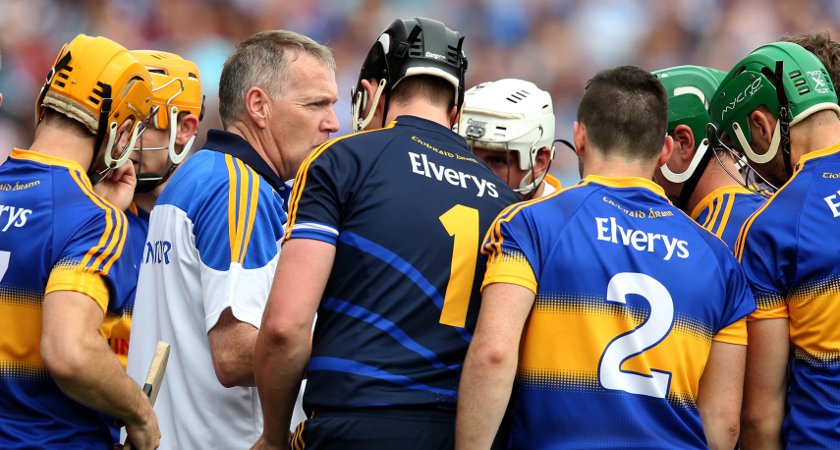 Conor O'Mahony and Lar Corbett were moved to the margins but Corbett was flying in training before the Munster final and O'Shea threw him in for the second-half, where he made an impact; from six plays, Corbett scored one point, set up another and was fouled for a converted free. O'Shea and Corbett have always had a good relationship but Corbett was only considered for duty when his form was right.
Other more experienced and class players didn't get that opportunity when O'Shea didn't feel they were at that pitch. Eoin Kelly was completely on the periphery last year and only came on for the last six minutes of the drawn All-Ireland final. Kelly never featured in the replay and he retired afterwards. It was an inglorious end to such a brilliant career but O'Shea was looking for new leaders throughout 2014 and he gradually found them.
O'Shea has been very fair in how he has reinvented the team but it also took him time to adjust to the transition from coach to manager. The players desperately wanted O'Shea back in 2013 but the risk with such expectation was that the players would see him as a panacea to all Tipp's ills. In 2013, Tipp looked like a team obsessed with recreating 2010 and it didn't work.
On occasions, there were discipline issues in the squad. Tipp might have got to this point quicker if O'Shea had left some blood on the floor but he has gradually developed a harder edge. There is always a case for staggering departures to provide sufficient leadership and experience but a new team is now moving forward.
Five of the 2012 All-Ireland minor winning team were part of the 26 against Waterford. That number would have swollen to six if Colin O'Riordan hadn't chosen football ahead of hurling. Only six of the starting team against Waterford were under 25 but there is still a sense that this Tipp team are on a new path.
Former manager Liam Sheedy got that vibe as early as the night of last year's All-Ireland final replay when he met the players at the Louis Fitzgerald hotel. "I left that night thinking that Eamon has that bunch of players absolutely where you would want any bunch to be," said Sheedy earlier this year. "I can't see this squad letting Eamon out the door at the end of this year without having done something special for him."
There is already one trophy in the bag, O'Shea's first, but there is only one cup Tipp really want. And if they do win the All-Ireland, any criticism of O'Shea, fair or unfair, will disappear like a straw in the breeze.