IT'S a decade to the day since one of football's most beloved souls was taken from us. But Bobby Robson was more than just a warm smile, he was arguably one of the UK's greatest footballing exports, having managed European behemoths Barcelona, Porto and PSV Eindhoven, and is the only England manager who doesn't sport a waistcoat to get the Three Lions to a World Cup semi-final since 1966. And it's easy to forget that he had a brief spell with Ireland - and almost ended up in charge. So today, we'll regale the story.
Irish football hit a very rough patch following the 2002 World Cup and departure of Mick McCarthy. What had preceded that were four out of a possible six international tournaments where the The Boys in Green had left their mark on the world stage, enjoying famously unfancied results against the likes of Italy, Holland, England and Germany, and with a promising rabble of Irish scrappers breaking through like Robbie Keane, Damien Duff, Ian Harte and Shay Given (and performing well in Japan/S. Korea) - the future looked full of colour for the Emerald Isle.
And with the fact that with McCarthy gone, notorious dog-walker Roy Keane was lined up for a momentous return to the squad. It was an exciting time to be an Ireland fan … Or so we all thought.
The appointment of Brian Kerr in 2003 proved to be an uninspired one. His predominantly conservative approach failed to rev anyone's engines and after failing to qualify for both Euro 2004 and the 2006 World Cup, he was gone in two years.
A number of high-profile names were banded about to be Kerr's replacement. Sir Alex Ferguson and Terry Venables were sensationally linked to the job, which is why it was a surprise to all when a 36-year-old Steve Staunton was handed the reigns. It was his first managerial job.
The FAI had a trick up their sleeve though. To aid Staunton in his new venture, and - more likely - to try and beef up what was seen as a rather low-calibre appointment, Bobby Robson - who had been out of work since leaving his beloved Newcastle United two years prior - was brought in under the capacity of 'support role'. His title: 'International Football Consultant', sounds high-tech, right?
The reaction to the news was mixed. On the one hand, Robson would bring some much needed experience and expertise to the table, but on the other hand, his presence severely undermined Staunton's role and suggested that the FAI's confidence in him was as low as the boots of a man stuck in a peat-bog. Not to mention, his best years were behind him.
Robson would generally take something of a back-seat role. While he did have a say at training and over team selection, he wasn't always around. Staunton was the boss, but could reach his International Football Consultant anytime he wanted by telephone.
His tenure though got off to a rocky start, with four losses from his first five matches and just one win in six. Ireland's original odd couple looked to be just that, odd.
But performances and results eventually picked up after an impromptu team-talk from Robson - a talk which Kevin Kilbane recalls being the moment the warmth of Sir Bobby would be forever etched in his heart.
Ill-health would plague Robson's time with Ireland. He'd been diagnosed with cancer a number of times in the past, most notably while in charge of Porto, where he was forced to miss part of the 95-96 season while recovering from an operation. Cancer was to rear its ugly head again in 2006, and a procedure to remove a tumour in his brain left Robson paralysed on his left-hand-side. Naturally, the Irish players didn't see much of the Geordie afterwards, but that didn't last long.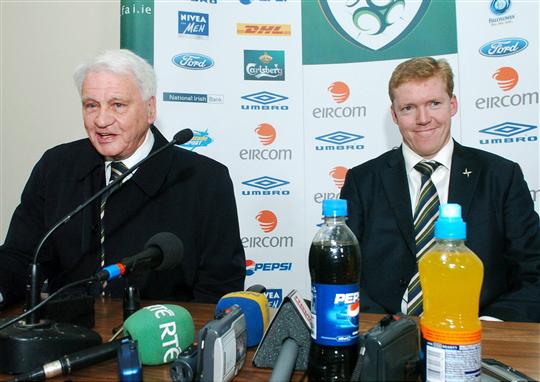 Following a 5-2 loss to Cyprus in Nicosia, Staunton was clinging to his job. A 74-year-old Robson, who could barely move his left arm, surprised the team by appearing in the dressing room instead of the manager, ahead of a crunch tie with the Czech Republic.
"He did a really good speech for us the night of that game," Kilbane remembered. "Basically, it was more telling us to get our finger out, but basically saying the manager is under pressure here and we need to produce something for him."
It worked.
Ireland grabbed a well-earned point and went on to win four-on-the-bounce. It was also the start of a nine-game unbeaten run, something which was unthinkable after the Cyprus defeat.
From here, confidence in the Robson-Staunton partnership slowly began to rise, and there was even talk of the two joining forces officially, with Robson becoming co-manager (which doesn't roll off the tongue quite as well as 'International Football Consultant' does it?). The FAI began drawing up plans, but fate was to stand in the way.
Robson was diagnosed with cancer again in 2007 - the lung cancer that would eventually claim his life two years later - and was forced to take a step-back from his duties.
For Staunton, it came at precisely the wrong time. With Bobby now off speed-dial, Ireland's form nose-dived. In the aftermath of  Robson's cancer reveal in May 2007, Staunton's men picked up just one win from seven games, a run which eventually saw him lose his job.
Robson's Irish adventure wasn't over though. Despite Staunton's exit, he would be in the stands for Ireland's next two matches - managed by interim Don Givens. He was also on the panel to determine Ireland's next step, new direction and next head coach. Robson was keen on one man. Giovanni Trapattoni.
Eight months later, the Italian was appointed and Ireland's slow road to recovery began. Sadly, the same couldn't be said for Bobby.
On July 31 2009, he died in his home in County Durham, finally succumbing to the cancer which had dogged the last few years of his life.
Robson's time with national team might not be fondly remembered, if remember at all, but he was undoubtedly a man fiercely committed to Ireland. He arguably played the biggest part in steering the team out of the doldrums which threatened to consume our nation's entire footballing landscape and into the hands of someone who could see a path back to the top.
In truth, that was Bobby. The eternal optimist. He was a man who was forever looking skyward, and now when we think of him, we shall do the same.
Here's to you Bobby. Ireland's favourite Geordie.