CONOR MCGREGOR has remarkably claimed that he wants to eat Khabib Nurmagomedov's children in a bizarre social media post.
The Irish UFC fighter took to Twitter responding to Khabib who had labelled him "evil" and "dirty".
In a swiftly deleted post, McGregor told his 8.8 million followers: "I wanna eat his children!!!! When's the last time he's even seen them actually? His wife? Mother?
"How bout you go spend some time with your kids and family for a change and keep my name out of your mouth b4 you get trapped somewhere again you mightn't be so lucky next time."
The Notorious's comments echoed Mike Tyson's claim that he wanted to eat Lennox Lewis's children before their bout in 2000.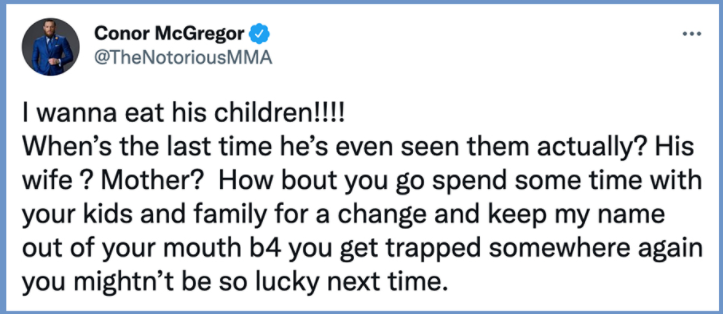 Last month, McGregor appeared to mock the passing of Khabib's father to Covid-19 in a response to the Dagestani's reflection on his UFC 264 defeat to Dustin Poirier.
Khabib tweeted: "Good also defeats evil," in the aftermath of the bout.
McGregor hit back, tweeting, "Good is Covid father is evil?".
The two have been locked in a venomous rivalry since they were pitted against one another and locked horns in 2018.
Khabib beat the Irishman via submission at UFC 229 to remain undefeated and win the UFC Lightweight Championship.
Following the fight, Khabib jumped over the side of the Octagon and tried to attack McGregor's training partner.