UFC 202 is tonight and with it comes the opportunity for the Notorious Conor McGregor to avenge his sole UFC loss, as he faces off against the wily veteran Nate Diaz in a much anticipated five-round desert showdown in Las Vegas.
Their first bout took place in March of this year and was a night to forget for McGregor. After a solid start that saw the Irishman land significant strikes, cutting Diaz in the first round, momentum shifted rapidly in the second. A visibly tired McGregor was faced with an opponent that proved capable of surviving the early onslaught.
Diaz is nothing if not durable and a bewildered McGregor succumbed to a rear-naked choke at the hands of the California native mid-way through the second round, in what would be one of the biggest upsets in UFC history. In McGregor's eyes, Diaz had won the battle, but the war was far from over.
When questioned why he was so quick to schedule a re-match, UFC President Dana White didn't mince his words. 'Conor was obsessed' with avenging this loss. It was a bitter pill for the Irishman to swallow, going completely against the grain of his previous UFC experiences, where he coasted past contenders with very little resistance, capturing the featherweight title within three years of joining the UFC ranks.
Relinquishing a size advantage in what was an impromptu move to welterweight for his first match-up against Diaz, McGregor was supremely confident in his ability to compete in heavier divisions and looked to become the first UFC competitor to hold two world championships concurrently. Nate Diaz had other plans.
There may not be a title on the line this Saturday, but the result will have major implications on where McGregor goes from here. A victory, and he may look for a trilogy match to eradicate any doubt as to who is the better fighter. A loss, and a return to featherweight to face Jose Aldo looks inevitable, drawing a close to his pioneering mission to heavier divisions, at least until he gets back to winning ways.
A new philosophy for an old foe
The philosophy at McGregor's gym, SBG Ireland, has always underplayed the role of the opponent. It has been about embracing a willingness to face off against any opponent, with any fighting style and until recently there seemed no reason to adjust this approach.
This philosophy has been temporarily abandoned though. The McGregor camp is very much focused on Diaz, sparing no expense in flying in sparring partners that can emulate Diaz. Many believe this will be the difference on Saturday night, none more so than long-time McGregor team-mate and recently retired UFC fighter Cathal Pendred.
Speaking exclusively to The Irish Post, Pendred exuded confidence in the Notorious; "He trained harder and smarter than any fighter I've ever seen. But more importantly, he learned so much in his defeat to Diaz and has gone to great lengths to ensure he doesn't make those mistakes again".
He will be facing a different Diaz on Saturday too however, and his skill-set plus experience is not something to be taken lightly. In their first bout, he stepped in to face McGregor on less than a fortnight's notice, leading to Diaz boasting that he beat McGregor with no fight camp, and that was the sole reason McGregor had seen initial success with his striking in the first round.
Can the Irishman return to winning ways or will this be a repeat performance of the Diaz show?
In the first bout, McGregor over-committed, believing he was hurting Diaz more than he was. Diaz masterfully played the long game, confident that as the fight went on, opportunities to counter the Irishman's advances would present themselves. What worked at 145 pounds for McGregor didn't translate to 170, or at least didn't translate to Diaz, and he successfully weathered the early storm.
Diaz found his rhythm in the second, and grew in confidence, buckling McGregor's legs for the first time in his career with a strong left hand. From there it was largely one way traffic against a depleted McGregor, who shot for a takedown in a last ditch effort to buy time to allow at least a partial recovery. Diaz had other plans, and McGregor was forced to tap via rear-naked choke after giving Diaz his back following a barrage of unanswered strikes from full mount. The air of invincibility that McGregor had over the previous three years dissipated in an instant.
Expect this Saturday to be different. McGregor won't hunt the finish from the opening bell. There will be less loading up on early shots, no over-committing and no unwarranted urgency. Saturday will be about implementing a master strategy of utility, using the first round to get comfortable, loose and familiar with Diaz's timing and if an opportunity should organically present itself, capitalising on it in a methodical way.
It's a back to basics approach, but it's one that has the potential to make all the difference. This will be a war of attrition as a calculated McGregor sacrifices power for endurance, while simultaneously looking to impose his will and dictate the pace of the fight. It's a game Diaz will be happy to play. Regardless of his Gracie Brazilian Jiu-Jitsu foundation, his fast hands are often his weapons of choice, and he firmly believes that he is not only better on the ground than McGregor, but a better striker also.
McGregor in a featherweight state of mind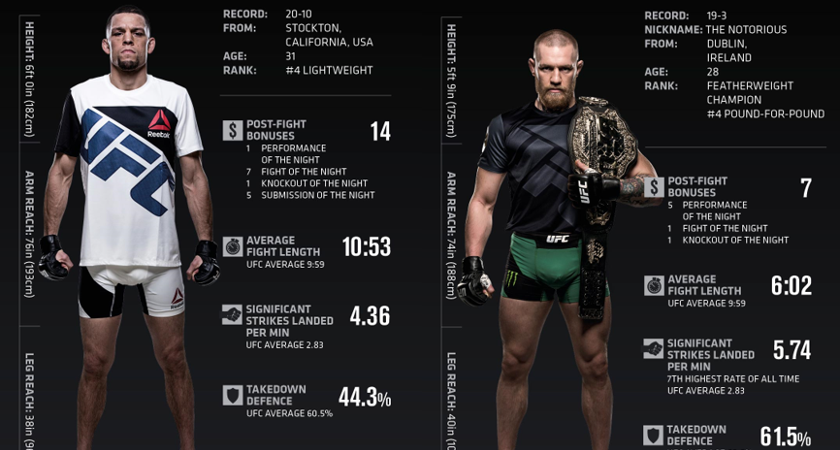 In the lead up to the first fight there was no need for McGregor to follow his usual protocols of a strict diet and drastic weight cut. McGregor's long-time coach, John Kavanagh, has said that it was too relaxed, that it didn't feel like they were preparing for a fight.
Perhaps the only positive that can be chiselled from the savage weight cut he is used to enduring at 145 is that by the time he steps on the scale for the weigh-in the day before, he is raring to make that walk to the octagon. There is an acute awareness that this is the culmination of hard graft, of endless sparring sessions, of strict dieting, of ultimate focus.
Kavanagh is adamant that in the days leading up to the rematch, the camp will be treating this like a featherweight bout, getting McGregor into fight mode so come Saturday night, when referee 'Big' John McCarthy calls both fighters to the centre of the octagon, he is in that featherweight state of mind.
Diaz is always dangerous, but an obsessed McGregor is a force to be reckoned with, in any division. Pendred showed no hesitance when offering his prediction: "I think Conor will finish Diaz within three rounds. He has left no stone unturned in his preparation for this fight."
As for McGregor, in a period of flux as training philosophies, approaches and strategies are re-imagined, the Irishman's self-belief remains unwavering: "The fans are in for a treat, but make no mistake, my hand will be raised."
For those that have followed McGregor's progress, they would expect nothing less from the Notorious.