Robert Emmetts               0-15
Fulham Irish                       2-9
London SHC
Pictures by Malcolm McNally
FULHAM IRISH mined seams of determination and resolve to almost pull off the shock of the opening round of the championship.
Two goals in a minute by Kevin McHugh early in the second half brought the south Londoners roaring back into this contest and, energised, they refused to wilt as Robert Emmetts tried to up the pace and pull away again.
They could not though, and a fine late effort by Shane O'Donnell off his left side tied up the scores.
To put this result in context, Emmetts, remember, were county champions in 2011 while Fulham struggled to break free from the intermediate ranks.
Of course, this is not the same Emmetts team that looked a solid bet to make it to Croke Park in early 2012, only to meet an in form Mount Leinster Rangers outfit.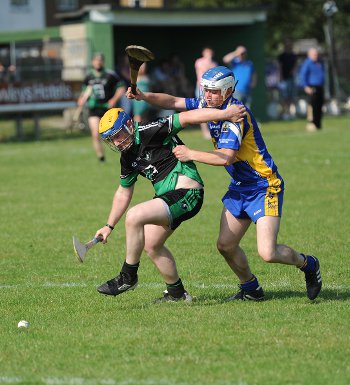 It is early in the year yet but compared to the standard set after this game on the same field by Kilburn Gaels, and in particular, St Gabriels, Emmetts are far from the necessary pace.
Perhaps it's unfair and premature to make that assessment based on a game played in sweltering conditions against a team they were expected to beat comprehensively. Time will tell.
The game never much deviated from the script in the first half. Galvised by the solid John Hanley at full-back, Emmetts defended well, limiting Fulham to three points.
At the other end, Fergus McMahon and Kevin McMullan did the damage from placed balls as Emmetts pressed ahead to a 0-9 to 0-3 lead.
It seemed to be business as usual early in the second half as McMahon tagged on another free to stretch the gap to seven points.
Then McHugh batted a rebound from a James Mulhair to the net to keep things interesting. We really sat up moments later when McHugh rattled the net again.
Fulham, who had fought hard if forlornly to this point, suddenly had an extra spring in their leap. Or the last 25 minutes the sides went toe-to-toe, Donal Casey knocking over a series of frees for resurgent frees Fulham.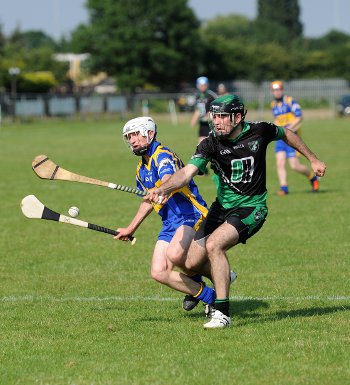 At the other end, McMullan continued to slot placed balls to keep Emmetts in the lead.
With two minutes left, Shane O'Donnell caught and drove over off his left side to cut the arrears to level the game. Fulham, the adrenaline surging, poured forward but the winning score alluded them.
Hopefully, in future, this game will not be seen as a one off but a watershed from which Fulham kicked on. And hopefully Emmetts recover the sort of form they are capable of. London hurling could do with another contender or two.
Robert Emmetts: Colm Stankard; Ben Jackman, John Hanley, Kieran Fitzgerald; Sean Ennis, Paul Horkin, Aidan Ryan; Paddy Breen, Tom Abernatty (0-1); Neil Clancy, Fergus McMahon (0-5, 2f, 1 '65'), Jamie Higgins; Kevin McMullan ((0-8, 6f), Niall Higgins, Eoin O'Sullivan. Subs: Damien O'Halloran (0-1) for O'Sullivan, O'Sullivan for Higgins
Fulham Irish: Colm Hennessy; Colm Kennedy, Colin Smyth, James McSwiney; Michael Broder, Patrick O'Mahony, Francis Ryan; John Coleman, Lee Darcy; Shane O'Donnell (0-1); Rory Mulqueen (0-1), James Mulhair; Dermot Fitzgerald, Kevin McHugh (2-1), Donal Casey (0-6, 4f). Subs: David Phelan for O'Mahony, Brian Hearn for Fitzgerald.
Ref: Beano Collins