THE WORLD CUP COULD LOSE three of the most favoured teams in the competition if results go against them today.  
Groups E  
Germany and Spain will kick-off later today (7pm), but if Costa Rica manage to beat Germany and Japan topple Spain later this evening it would represent a massive upset for both international heavyweights.
Hansi Flick's Germany were beaten by Japan in their opening game and were heading out of the tournament with a loss to Spain,
Spain on the other hand hammered Costa Rica 6-0 in their opening game and were well fancied to beat Germany
The huge game between Spain and the Germans took place last Sunday. A Spain win would have sent the Germans home for the second World Cup group stage in a row, but substitute Niclas Fullkrug scored late on to make sure Germany remained in the country for another week.
Today both sides face the possibility of elimination from the group, Spain not so much, but it can happen with a defeat to Japan.
Germany's game against Costa Rica has more risk attached to it. It would be another disaster for the country after what happened at the Russia 2018 World Cup
Germany never made it out of the 2018 World Cup group stage despite being World Cup holders at the time
Speaking yesterday, Hansi Flick said: "It would be disrespectful to Costa Rica if we said we want to score eight goals. We will be happy just to win the game. It is all about getting a positive result.
"For Costa Rica to concede seven goals in their first game and then beat Japan is no mean feat. I look at the table and I see that Costa Rica also has an opportunity to go to the last 16."
May God forgive me for thinking this World Cup would be boring 🙏🏿😔

Group E is the real definition of "anything can happen" !!! pic.twitter.com/ox9ZHCTw2M

— Yormide 🇧🇪☆ (@Tropical_papi) November 27, 2022
Group F 
Another side that could be knocked out of the tournament is Roberto Martinez' Belgium side.
The Red Devils play table toppers Croatia at 3pm today.
A dour 1-0 win over Canada in the opening game did little to ease fears that Belgium's golden generation was finished.
The sentiments were only increased after Belgium lost to Morocco
Belgium needs a win against Croatia and for Morocco to beat Canada who have no points in the group.
A loss today would signal the end of Belgium's best batch of players ever assembled
Croatia coach Zlatko Dalic said of Belgium: "This is a great team and if we had to choose, we could not have selected this to be the decisive game."
Roberto Martinez added his take on the poor form and said: "There is more desire to find negative news around this team rather than get this nation together, support this team and enjoy the talent of the best generation that we have ever had in Belgian football."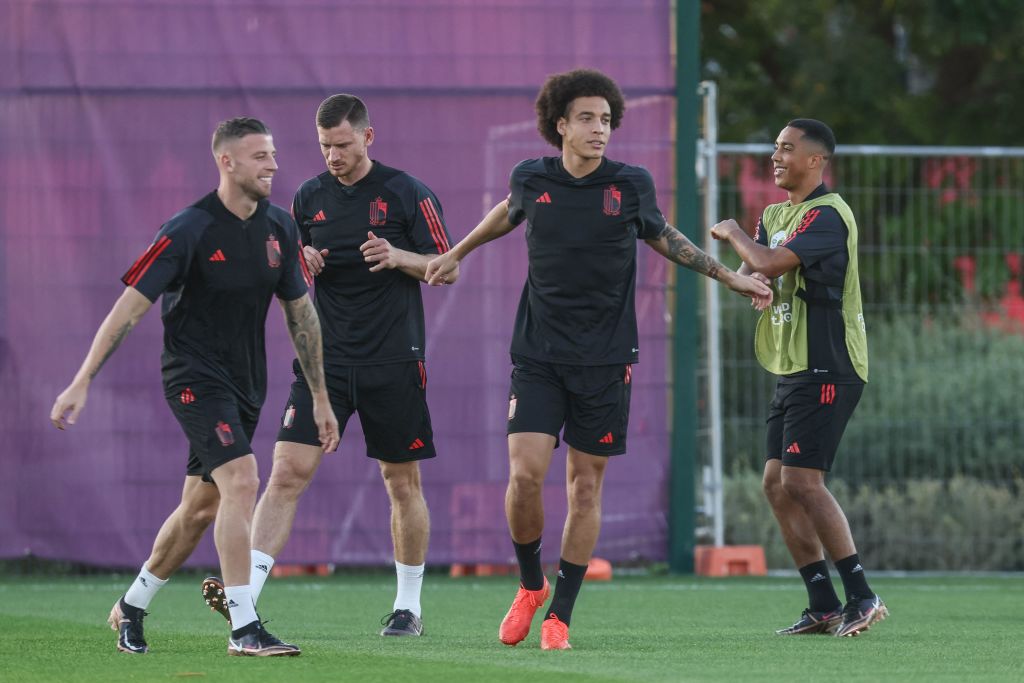 Belgium's Toby Alderweireld, Belgium's Jan Vertonghen, Belgium's Axel Witsel and Belgium's Youri Tielemans pictured during a training session of the Belgian national soccer team the Red Devils, at the Hilton Salwa Beach Resort in Abu Samra, State of Qatar, Wednesday 30 November 2022. The Red Devils are preparing for the upcoming game at the FIFA 2022 World Cup in Qatar. BELGA PHOTO BRUNO FAHY (Photo by BRUNO FAHY / BELGA MAG / Belga via AFP) (Photo by BRUNO FAHY/BELGA MAG/AFP via Getty Images)
Football today 
Group F: Croatia v Belgium (3pm)
Group F: Canada v Morocco (3pm)
Group E: Japan v Spain (7pm)
Group E: Costa Rica v Germany (7pm)