AFTER years of online feuding and taunting, Cork native Gary 'Spike' O'Sullivan and upcoming opponent Chris Eubank Jr finally got together in the same room on Thursday.
The normally outspoken O'Sullivan remained calm and reserved throughout, and it clearly got under the skin of Eubank Jr, who had turned up an hour late to the press conference ready for a public war of words.
O'Sullivan, or 'Spike' as he is affectionately known as to boxing fans, amused the room with his dead-pan responses to Eubank Jr's goading, but couldn't resist a swipe at his opponent's father – Chris Eubank Sr, who is in Australia to take part in reality TV show 'I'm A Celebrity…Get Me Out Of Here!'
For a solid five minutes with minimal interruption, here's what was said between the pair in front of the media...
Eubank Jr: "I'm not going to call him Spike, I'll only refer to him as Gary."
Spike: "I don't care, I'm just going to beat him."
Eubank Jr: "It's a shame because, online on Twitter for the last few years, you've been so vocal, disrespecting me and saying dark things. But now, here on the big stage, all you can say is 'I'm going to win', let's put a show on for these guys."
Spike: "But I am going to win, Chris. I wanted the fight, I've got the fight, I'm happy."
Eubank Jr: "Well say some of the things that you've been saying on Twitter then!"
Spike: "There's no need for any of that."
Eubank Jr: "What happened to all the disgusting things you've been talking about over the last few years then? Let's show the public how big you are."
Spike: "I don't care what you say, I'm just going to beat you."
Eubank Jr: "That's a shame. I mean [Billy Joe] Saunders has a very strong mouth on him but the difference between you and Saunders is that he'll say it to me, to my face and he'll say it to the public, that's the type of guy he is. It seems like you're a fake"
Spike: "It's just business to me, Chris."
Eubank Jr: "Just business?! You're business is looking pretty poor right now."
Spike: "I don't care what you say, I'm just going to beat you."
Eubank Jr: "Keyboard warrior over here, that's what we've discovered today. Twitter terrorist."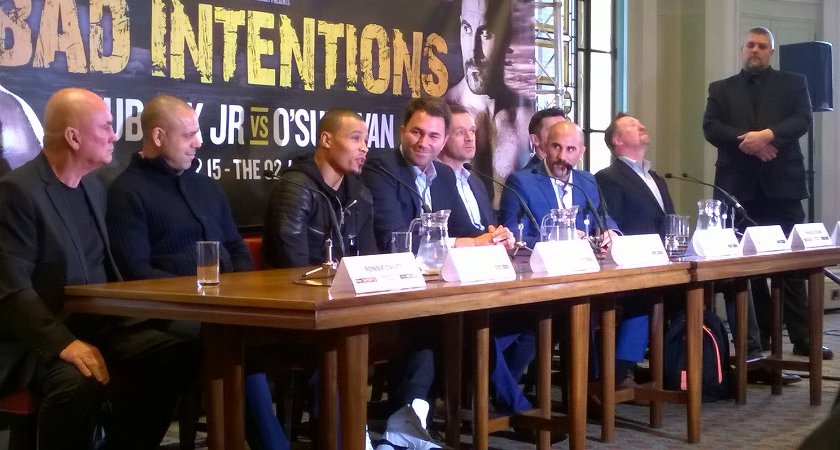 After Spike's trainer Paschal Collins momentarily interrupts the bickering, Eubank Jr re-opens the war of words…
Eubank Jr: "Spike your trainer is doing all your talking for you, this is embarrassing."
Spike: "I thought you weren't going to call me Spike?" [Press conference erupts with laugher]
Eubank Jr: "Speak up. You're on the world stage now, this is what you wanted, right?"
Spike: "I will beat you Chris."
Eubank Jr: "You've said that four or five times now, it's getting old."
Spike: "Are you missing your Daddy? What's he up to these days?" [Press conference sniggers]
Eubank Jr: "I like how you go through this supervillain thing saying 'my name is Spike', but you need to understand that you're talking to the original bad guy. In my first 18 fights I walked into the ring being booed, hissed and sworn at every single time. I'm used to this role, you're not bad, you're a pretender."
Spike: "I'm not trying to be the bad guy, the fans are on my side anyway."
Promoter Eddie Hearn then asks photographers to gather around for the traditional face off, only for Eubank Jr to refuse.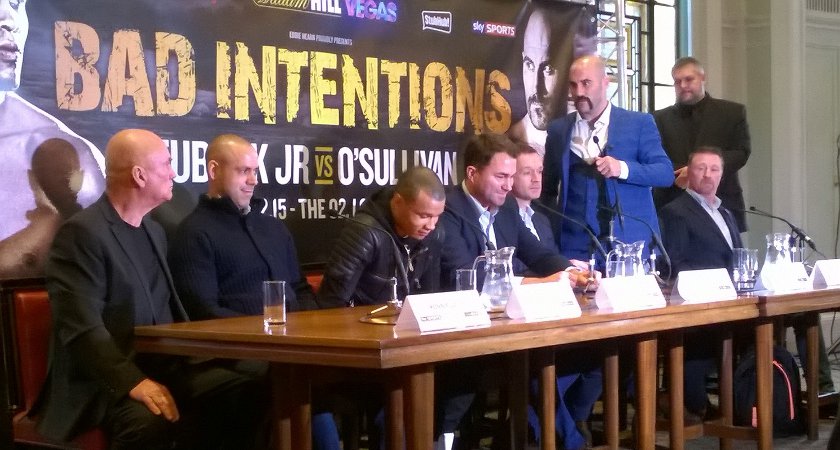 Eubank Jr: "I seen in his last face-off that he kissed his opponent on the mouth, which for me is unacceptable...so because of that he's lost the privilege of having a face-off with me today."
Spike: "Bottler. Come on Chris, don't bottle it. Stand up and face me. Bottler."
Press conference ends. Watch Chris Eubank Jr v Gary 'Spike' O'Sullivan on Sky Sports 1 on December 12.