IT IS hard to know where to start where to start with travelling to Jordan, so I'll begin with the first question I had – is it safe?
The answer is yes. Although Jordan borders Syria, Saudi Arabia, Palestine, Israel and Iraq it is one of the safest and most politically stable places to visit in the Middle East.
The latest information from the Foreign and Commonwealth Office (FCO) advises against all but essential travel to within 3km of the entire Syrian border, for obvious reasons, but other than that if you consult their travel advice before you go, Jordan is open for business.
After a five-hour flight from London, we touched down in the capital Amman, an odd mix of new and old, and home to about four million of the country's total population of 9.5million.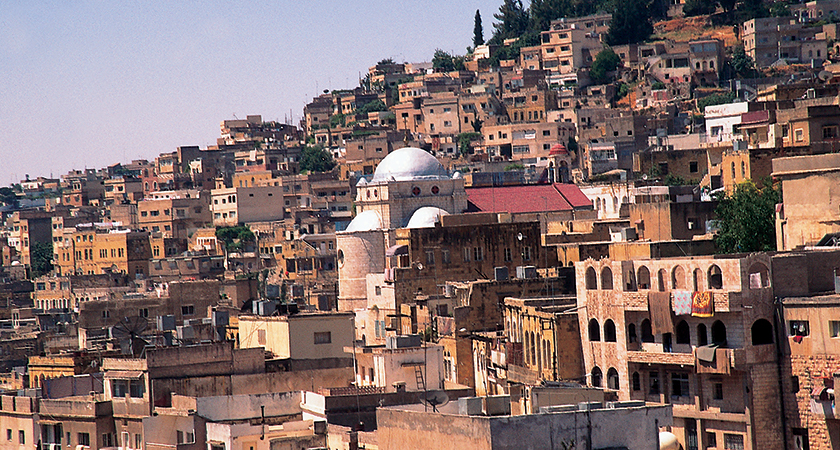 After a night's rest, we wasted little time in high-tailing it out of Amman, heading 30 minutes drive west to the ancient city of Salt where you can wander through the hilly streets, see the souk in full swing, stop at a bakery where you'll see traditional bread (shrak) being made, buy some spices or wander and watch old Arabian men immersed in games of Mangala in the shade.
But we didn't come to Jordan to stay in cities, the focus of our trip is outdoor eco-tourism, and living like locals. Nowhere is this better experienced than Rummana campsite, part of the Dana Biosphere Reserve.
We travelled down the steep hill to the campsite in a 4X4 and arrived in darkness before falling asleep in our tents after a delicious array of Jordan dishes for dinner. Only in daylight can you really appreciate the staggering, otherworldly beauty of the area.
We hiked a trail of three-four hours, taking in the incredible views. The vast, scorched rocky landscape is so utterly unlike anything I've see in another country or continent it almost feels like you are in a George Lucas Star Wars set, but this is planet Jordan.
Later that evening, in the tourist hub of Petra we were treated to an authentic Jordanian cooking class at Petra Kitchen.
Jordanian food deserves honourable mention.
It comes in an abundance of beautifully displayed dishes, exotic but not unfamiliar in flavour if you have eaten Lebanese food. Like most of the Middle East, meals are made up of a large selection of hot and cold meze, from the familiar hummus, tabouleh and kofta to the national dish of Mansaf – Arabic rice made with lamb or chicken and presented in huge serving dishes – often served at occasions and celebrations.
As well as eating, you actually learn the basics of making some Jordanian classic dishes at Petra kitchen.
From Shourbat Adas (lentil soup) to Baba Ganuj (roasted aubergine mashed with pepper, tomato and garlic), tahini salad, galayat bandura (a tasty fresh tomato dish that literally means 'skillet of tomatoes'), fatoosh (cucumber and tomato salad), Bedouin pizza (every bit as delicious as it sounds) and Suniyat (a popular chicken dish that is made in many variations with meat or aubergine.)
A note on alcohol, it is available in places, usually larger hotels. But you shouldn't plan on a drinking much while on holiday in Jordan, the locals don't do it, and honestly, who'd want a hangover in the heat?
While Jordanians speak Arabic, English is also widely spoken and understood and most people are open and friendly to tourists.
Currently ruled by King Abdullah II, son of the late Kin Hussein. Jordan is a Muslim country and the conservative dress code should be observed.
More than 92 per cent of Jordanians are Sunni Muslims. Women are advised to cover up, and the tourist board advises that revealing clothing is never appropriate, anywhere in Jordan.
Loose lightweight layers are the best way to go.
At tourist hotels and resorts, for example in hotels along the Dead Sea, tourists do tend to wear bikinis and shorts, but these are the only places you can get away with it.
Petra itself is Jordan's jewel, much written about and photographed. And yet, nothing can quite prepare you for its scale and spectacular views.
The ancient city, situated about three hours south of Amman is the legacy of the Nabataens the Arabs who settled there 2000 years ago. You enter via a long winding Siq – a narrow gorge, feeling like an ant winding under the red cliffs until you get a splinter view of the site that lies ahead.
What the Nabataens have left behind is a mind blowing site of architecture and human engineering alongside natural wonders. You could spend days in Petra alone, talking trails along the routes where caravans and camels laden with silk and spices once went.
But there's more to Jordan than Petra.
We spent our penultimate night in vast Wadi Rum dessert, sleeping in traditional Bedouin accommodation, feasting on local food (one meat dish buried and barbecued in a pit and then dramatically unearthed in the dark before serving) and even being treated to some lively music and dancing
The sunset in Wadi Rum is unmissable, climb a rock and watch the ruby red sun set, and then revel in the galaxy of stars as clear as crystal in the night sky.
Camel rides and a trio across the sands on a 4x4 with local guides is the best way to experience the dessert, but really whether you are on foot or wheels or overhead in a hot air balloon – Wadi Rum is one of the most incredible sites you'll ever see.
Our final day in Jordan summed up what the country has to offer neatly. Part one was a wild adventure through the Mujib Nature reserve, a rapid water hike through the lowest altitude nature reserve in the world.
You'll get soaked and probably loose your sunglasses along the way, but the end paradise waterfall at the end of the trail is well worth it.
The Mujib reserve is situated within the deep Wadi Mujib gorge (wadi means valley so you'll hear it a lot). When you are down this low, (the gorge measures 1300m from top to bottom) then you know you must be near the lowest point on Earth- the Dead Sea.
It's at this famous point, 400 metres below sea level, we end our trip. The Dead Sea is undoubtedly the most westernised and tourist friendly part of Jordan. With its warm climate – and the advantage of having the world's most unique natural spa at its feet – it's not hard to see why.
Its waters, nine times saltier than the Mediterranean, are practically impossible to swim in, instead you coat yourself in the mineral rick mud, bask in the sun until it is caked on your skin and then float in the salty sea before washing it off.
The mud and the waters are said to be rich in healing properties, great for easing stiff muscles and relieving stress, but after five nights sleeping wild in Jordan, I hardly needed it.