RUMBLINGS have already begun but this month, Ireland's newest comedic personality comes to us in full force, as Al Porter makes his headline debut at the prestigious Soho Theatre in London.
The camp comic from Tallaght in Dublin has been a longtime fixture on the panto scene as the dame, but he's recently branched out into radio presenting on 2FM, hosting his own TV show, and stand up comedy — not a bad CV for any entertainment pro, let alone a 22-year-old.
So after an incredible 2015 which saw him perform at Edinburgh Fringe Festival,
appear on Live at the Apollo, and sign up with Jonathan Ross's agent no less, he tells us his big plans for this year — but also why he won't be moving away from his mam anytime soon.
How do you feel about 'the new Graham Norton' tag? 
I'm a huge fan of Graham Norton but I'm not sure it holds true because what we do is very different, even though we're both camp and Irish. I've also had 'the gay
Billy Connolly' or 'Frankie Howard if he was from a council estate'. I don't mind
at all.
Who would you cite as your influences?
In terms of style, I love sparkles, big shows and velvet curtains, so it's mostly seventies comedy, like Larry Grayson, Tommy Cooper, Frankie Howard. I've always been a big fan of anyone who speaks with their own voice, and the genre is less important — you can tell that Michael McIntyre is the middle class he presents, and Billy Connolly worked the shipyards.
You're known for being risqué – do you see yourself as edgy?
I'd say I'm candid. I pull no punches when I want to, but I don't intend to shock. I talk about the fact I was going to end up being a priest until I slept with one, but it's nothing you wouldn't hear with mates after a couple of
drinks.
What's the new London show about?
It's an introduction to me: here I am, warts and all. I thought the first show should be confessional — mostly because everything I do is so self absorbed! But might as well tell people who I am, where I come from. It's not coming out, I've been blatantly gay since age of 10.
Does your comedy translate to audiences outside of Ireland?
Nothing I do depends on whether I'm Irish. I like to talk to an audience like it's a gossip over a garden fence. If
I was on holidays and I met some international people at the hotel, I'd still try to make them laugh. Plus let's not
forget that it's quicker for me to get to London than Donegal.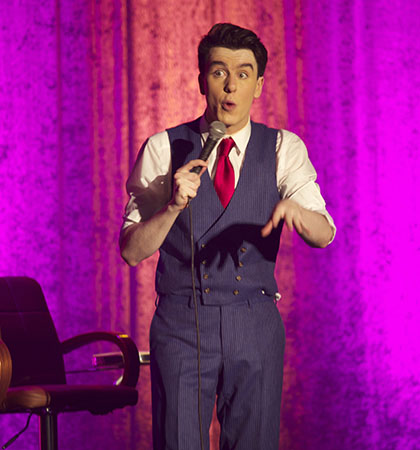 Is Soho Theatre an important venue for you?
It's really important. If you'd asked me a year ago what I'd like to do, that would be something to tick off my list.
I know a few people who have played it, like Panti Bliss, and they've said it's amazing and loved it. It's also important for me to do shows outside of Ireland, it makes me think outside the box.
Would you move to London?
There are opportunities in Ireland, but the UK is where the bigger cameras and the bigger audiences are. Next year I'll have my show on RTÉ  2FM so can't move over, but I hope there's not a fortnight I don't go to gig, or see
someone else's gig.
What else does 2016 hold for you?
 I've also got eight shows at Vicar Street in Dublin, but my focus will be to gig more outside of Ireland. I've just got a UK agent, Joe Norris, who looks after Michael McIntyre, Alan Carr, Jonathan Ross and Lee Evans before he retired. He signed me around the time I was on Live at the Apollo, and hopefully that means I'll be coming over more and more.
How is it to be on the same roster as the likes of Alan Carr and Jonathan Ross?
It's almost embarrassing — scarleh for me! By no means does having the same agent
mean you're doing the same thing, it means I'm good enough for the agent. Those people inspire awe in me
— when Jonathan Ross followed me on Twitter I had a real fangirl moment.
Did playing Edinburgh Fringe Festival help your career?
When I came home from Edinburgh, I did four sellout nights at Vicar Street — I was the youngest comedian there
— and l also played the Cork Opera House. It's hard to
describe the progression, as the boost something like Edinburgh gives you manifests itself at different times in different ways. It all seems to be building up though — last year I began presenting on 2FM and I had
the Christmas variety show, the Al Porter Show, so a lot has gone on between the radio, TV and stage.
I did Robin Hood once and nana said 'sure what would you be wanting with
Maid Marian?'
Do people treat you differently because of your age?
I find people think I'm much older than I am. It must be all the drinking. I actually take it as a compliment because I never even did amateur theatre, I just happened to start in professional shows. But I was never a leading man— I wouldn't be believable in that role. I did Robin Hood once and nana said 'sure what would you be wanting with
Maid Marian?' So for the 10 years I've been doing panto, I've been the dame for eight. And I've only been doing
stand up comedy for three years, when I dropped out of college.
How do you find still living at home?
I never want to move out. I've just wrapped a tour and I have an appearance on the
Late Late tomorrow with a comedy song, plus I'm rehearsing for a new show.
No one could ever do that if they were cooking, shopping,and getting the dry cleaning. So my mum is best friend,
manager and PA.
What's the comedy scene like in Ireland at the moment?
Really thriving but unfortunately it's a scale thing— whereas you'd have severalcomedy clubs in London,
there's just the Laughter Lounge, City Limits and Róisín Dubh. Most comedy venues are actually pubs where you're just shoved in a corner with a mic. There's a strong comedy scene at GAA clubs, which are kind of like working men's clubs might have been, and it would be nice for that to get stronger.
Has Ireland changed since the referendum for marriage equality?
Gay people can feel more confident now. Ten years ago Graham Norton left Cork because it was an awful place
to be. But I did my first ever Late Late appearance on the same day as the referendum, and that show is the middle
Ireland, over 45 crowd. I'm very lucky that on stage I don't have to try to hold my tongue and think about what I
can and can't say about myself. In fact I get away with murder on TV.
How would you like your career to develop?
I've always liked the idea of being an entertainer, but I'd love to do a costume sitcom sketch show similar to Blackadder or Up Pompeii. Who knows what will happen. Maybe it's part of my youth, but I've no five year plan.
Al Porter plays the Soho Theatre, London from January 27-30. For details see sohotheatre.com or call
the box office 020 7478 0100