A WHOPPING £255,000 was raised when Ed Sheeran headlined a unique event at the London Irish Centre last night.
Hot on the heels of his sell-out dates in Wembley over the weekend, the chart-topper performed for an intimate crowd at an exclusive fundraising night held at the centre in Camden Square.
Just 400 people were in attendance for the gig, which also saw DJ Annie Mac, Dublin poet Stephen James Smith, singer Lisa Hannigan and DJ Sara Cox performing.
Popular second generation presenter Dermot O'Leary led the night, engaging in conversation with Sheeran in between the artist's performances.
Both Sheeran and O'Leary have recently singed up as patrons of the London Irish Centre (LIC).
Chatting casually to O'Leary about his Irish roots, Sheeran explained that his dad's parents hailed from Belfast and Wexford and that he spent "every school holiday" in Ireland.
O'Leary, whose own parents hail from Wexford, admitted he had had a similar experience, joking: "My memories of being in county Wexford are of being trenched around to old ladies' houses and force-fed dairy."
Sheeran, who is still closely connected to his Irish roots, shared with the crowd some of his experiences of Wexford, including recently attending a "dog christening" there with his grandmother.
The singer-songwriter, who invited guest stars Andy Irvine, Lisa Hannigan and mentor Luke Concannon on to the stage over the course of the night, held the audience in his hands throughout the evening – which he kicked off with a note-perfect rendition of his "favourite Irish Folk song", The Parting Glass.
From his earlier hits, such as The A Team and Photograph, to the more recent Perfect and Shape of You, the crowd were treated to the full works from the global superstar.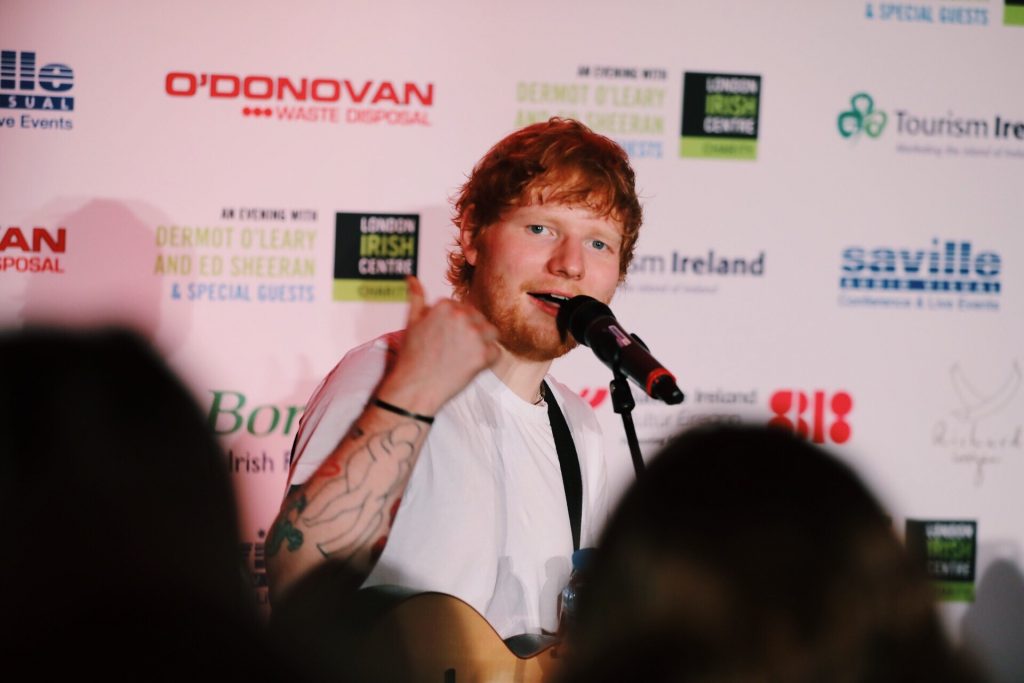 Particularly well received was his 2017 track Nancy Mulligan, which Sheeran explained was a song about his "granny from Wexford".
"This is a song about my granny from Wexford and my grandad from Belfast," he said.
"They fell in love at a time when it wasn't acceptable. This song is about that."
The rousing Irish Folk tune truly got the crowd moving, including the raft of celebrities who came out to see the star.
Snow Patrol's Johnny McDaid, his partner, the actress Courteney Cox, Mayor of London Sadiq Khan, presenter Laura Whitmore and comedians Alan Carr, Roisin Conaty and Aisling Bea were just some of the famous faces who enjoyed the night.
Celebrity chef Richard Corrigan, who, along with Bord Bia, provided a selection of canapes for the evening, was also spotted at the gig, which was sponsored by Tourism Ireland and the leading London Irish construction company O'Donovan Waste Ltd.
Of course the night was all about fundraising for the LIC, which, its director Sean Kennedy explained, is planning an ambitious "redevelopment" project to make it "the best Irish cultural centre in the world".
In additional to the funds raised through sponsorship and ticket sales, an auction on the night saw £20,000 bid for one of Sheeran's guitars, which was signed by the man himself on stage.
A further £50,000 was raised when five business people from among the crowd signed up to become Platinum Donors to the LIC, at £10,000 a head - former Addison Lee owner John Griffin and Galliard Homes CEO Don O'Sullivan were among them.
As the remarkable night drew to a close, the organisers confirmed that an impressive £255,000 had been raised in total.
At that point Sheeran took the opportunity to thank everyone who had helped them reach that sum, stating: "We reached a quarter of a million pounds tonight. We reached what we tried to do.
"Thanks to everyone - thank you so much.
"Now let's have a sing-song."