IT'S LUNCHTIME in Brighton, May 2008. A young Irish songwriter by the name of James McMorrow is playing a short acoustic set in a bar to less than 20 people as part of the city's Great Escape music festival.
It's not a big crowd, but it's an enthusiastic one; one woman snaps an almost constant succession of photos as she whoops and hollers between the soft-spoken musician's tunes. She can see and hear what the rest of us can: there is something special about this guy.
Fast-forward two years, and the wider world seems to be slowly cottoning on, too.
Now with a 'Vincent' in his name and a stellar debut album under his belt, word of mouth is growing about the Dubliner who has already experienced music industry heartache in the form of a publishing deal with Universal/EMI that fizzled out with a whimper.
Decamping to Drogheda, Co. Louth, he spent time crafting Early in the Morning before unleashing it on the public to positive reviews in Ireland, the in Britain, then on mainland Europe. Suddenly, it is like the whole planet is awakening to the smoky-voiced songwriter's music.
Advertisement
"It's part of my history but I don't remember it in many ways because so much has happened since then," says the bearded singer on a rare day off at home in Dublin.
"I was at a Christmas party for my management company recently and there were a lot of younger acts performing at it, and they were talking about how nervous they were, - and specifically how nervous they were because I was in the room," he chuckles.
"I remember having those exact same memories of being at shows and someone I respected being there – and how many mistakes I was making. I don't think about it much, but all those things came floating back last night.
"You make mistakes and you get better, and things change; and before you know it, you know exactly what you're doing. It doesn't happen overnight, but you suddenly find yourself as a different person and a different musician."
It is something of an understatement to say that the McMorrow of today is a different musician to the one back in 2008, or even the one who released Early in the Morning in 2010.
If proof were needed, it comes in the form of his second album, Post Tropical, which is a vastly different proposition to its predecessor in practically every way. Thought you had the almost-31-year-old pegged as a rugged guitar-wielding troubadour?
The smooth throb and experimental rhythms and tempos of songs like Red Dust and Gold will set you right, while the singer rarely deviates from a raspy, soulful falsetto throughout the album – particularly effective on tracks like lead single Cavalier.
Advertisement
One of the most misleading things about McMorrow's music, he claims, has been being referred to a 'folk singer'.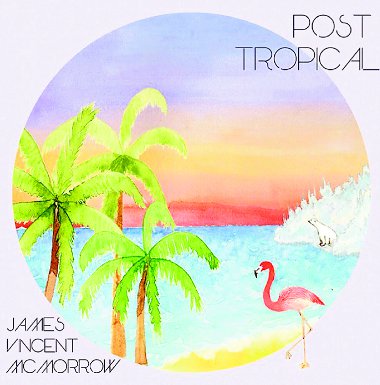 "Man, it's funny when people call me 'hushed'. You should ask my mom if I was ever hushed – she would not agree," he tweeted recently. Is this album a concerted effort to break free of the comparisons to the likes of Bon Iver and Ray Lamontagne?
"There was no thought in my mind at any point in terms of wanting to 'move past' anything," he says, shaking his head.
"The first record was what it was supposed to be. It was based on my limited circumstances and my abilities at the time, and I'm incredibly proud of it – but it's like the first step, a hundred steps ago.
"I suppose at the time I do remember thinking that it seemed like quite a short-sighted and tedious thing to do, to lump all of these incredibly diverse musicians together. I couldn't tell you two things that I have in common with Ray Lamontagne and Bon Iver, beyond the fact that we're both soul singers with beards.
"And if that's all it takes to be considered a folk singer, I think there's a gap in the market for a lot of people that I see on the street walking around every day with beards," he laughs. "That said, I think that it's important to not get bogged down in those things."
Advertisement
When it came to crafting the sonic elements of this album, McMorrow was determined to take matters into his own hands and refused to let the parameters of genre outline the type of music he was trying to make.
"You have to define your world a little better, and that was something that resonated with me," he says, nodding. "If you leave it open to interpretation, then people will ascribe those things to you. This record wasn't a reaction to that labelling, but I definitely thought a lot on it.
"It's important to have your own world to exist in, and that's kind of what this record is to me. This is my wheelhouse. No record sounds like this, no record does what this record does: I can hand on heart say that. And I think that's what you're supposed to do; your responsibility as a musician is to try to create your own little world and not be fearful of tags, or anything.
"I've just made whatever I want to listen to, and trust that there's either good music or bad music, and that's kind of it. That's how it should be."
Creating his own Post Tropical world meant moving outside his comfort zone – which, this time, meant relocating to El Paso, Texas to a rural studio near the Mexican border to finish the record after sketching out a rough outline in Dublin at the start of 2012.
"It was a slow and deliberate process – not dissimilar to the first record, in the sense that that was also slow and deliberate, but obviously this one came with the backdrop of world touring, so you can't sit down for five or six months at a time. You have to compress your ideas and refine your time a little better.  It was a very different process to the first record in all senses.
Advertisement
"Obviously with the first record, there was no set-up, no infrastructure, there was nothing there – I couldn't build studios or go to studios or travel, it was all recorded at home. It was nice to take this one out of its environment and be able to put in on a laptop or hard drive and go to another part of the country, or another city, or another country.
"I wanted it to have that sense of travel, that sense of movement; I didn't want to just sit in my studio all day long being warm and quiet. I wanted to take it different places, and that that would give it a different energy and a push that it needed at certain points.
"I don't even know what I was looking for – I just know that had I finished this record in my studio by myself, it would have been, for all intents and purposes, the same record. I didn't even think about it being in the desert until we arrived and realised that we were pretty much in the middle of nowhere," he smiles.
"It wasn't like I said 'Well, this is the record, and this is the album title, and I want it to be this warm thing, therefore I'm going to go to a warm environment'.
"I'd been looking in Ireland and in France and a few other places, but it was January and it would have been cold everywhere – it just so happened that the one place I picked happened to be very warm."
To further widen the gap between albums one and two, McMorrow allowed his formative musical influences to influence this record in a way that they didn't with Early in the Morning.
Advertisement
"I want to incorporate everything that I love, but I made a conscious decision not to listen to anything while I was making this record," he explains.
"The music that I love is in my head, and it's always going to be in my head because I've listened to it a thousand times and it's rattling around in there.
"My love of production came from stuff like N*E*R*D, Neptunes, Timbaland and Swizz Beats records from when I was a kid, because I wanted to figure out how they made those sounds; to me, it's really deep and forward-thinking stuff.
"But I'm still a fan of traditional songwriting, and I'm still a fan of the speed metal that I grew up with, and the tempo changes and dynamics of a Tool record.
"And I wanted to use a Fender Rhodes [piano] instead of a bass, because that's what Donny Hathaway and D'Angelo did, and I always loved the texture and resonance of it.
Advertisement
"Those things are all in my mind and they all rattle around in there – so this record is just the elements of all those things that I love being pulled together. The intricacy of the rhythms and the patterns in this record are as much influence by Tool as they are Pharrell Williams, and so all of those things inform it."
Contrary to popular belief, McMorrow says that he has never written a song on guitar and he wasn't about to start with this album. Indeed, guitar plays a background role on the majority of these songs, although the lush layering of harmonies that filled out his debut remain intact.
"Production and recording has always been my writing process," he says. "I'll hear an idea and I'll record it and I'll listen to it back and build songs off of those ideas. That's always how I've worked, and that's how I worked with this record.
"I play songs on every instrument and try them from every angle. I'm not a 'sit with a guitar and write a song' sort of musician. It's way more abstract than that."
Already, the early responses to Post Tropical have been effusive in a way that McMorrow has been surprised by, even after the level of success he has already achieved in Ireland, Britain and North America. As the international plaudits continue to pour in, 2014 is looking like the year that McMorrow's star may well go stratospheric.
"I think the way the first record came out meant that I had a lot of time to adjust to it, because it got incrementally got bigger and bigger – it didn't just explode," he nods.
"It was a very slow and steady build. The response and the reaction to the first couple of songs from this record has been way bigger and more profound than anything I've experienced before, so this is the first time where I'm a little bit like 'Wow, this is different... OK'.
Advertisement
"But anyone that knows me knows how ambitious I am, musically speaking, and I want to make the best things possible. I want them to travel as far as possible and my job now is to get on a bus and play shows, and play the best shows possible.
"I'm feeling incredibly ambitious because that's what the record called for. I really put myself out there, to a certain extent, when I was making it.
"It's not that it was a risk, but I certainly went for it in a way that was either 'Go big or go home', so you have to just really go for it and commit to it and trust in it. There's nothing on it that I'm not excited to play live.
"There are three or four songs from the first album that I love and I think I'd play forever, but I also knew that I was only playing certain songs just because they were on the record.
"With this album, I don't think there's been a moment where I've felt that I'm not gonna want to play them all live. I built this album as something to put on their headphones and listen to, or something to put in your car and listen to from start to finish.
"It's an 'album' in that most classic way possible, but it's also a completely modern record. I'm proud of that and I hope that people connect with it and that it'll move as a record; that they don't see it as a collection of singles with a bunch of filler, as opposed to ten songs that are meant to be together. I hope people get that. I think that they will."
Post Tropical is out now on Believe. James Vincent McMorrow plays Celtic Connections at Glasgow's City Halls (28).
Advertisement