IRELAND'S FAVOURITE chocolate company is celebrating St Patrick's Day with a unique twist on their Dairy Milk chocolates.
Cadbury's chocolate is marking St Patrick's Day 2021 with a new, limited-time gift box adorned in the Irish language.
Launched to celebrate both St Patrick's Day and Seachtain na Gaeilge, which celebrates the Irish language and encourages people to use their cúpla focal,  the special gift-box sees Cadbury's Dairy Milk bars transformed into Bainne Déiríochta until 28 March.
The gift-boxes can be purchased in most Irish shops including Supervalu, Applegreen, Costcutter and Gala stores across the country, and are free of charge when you buy four Dairymilk-- or Bainne Déiríochta-- bars at a time.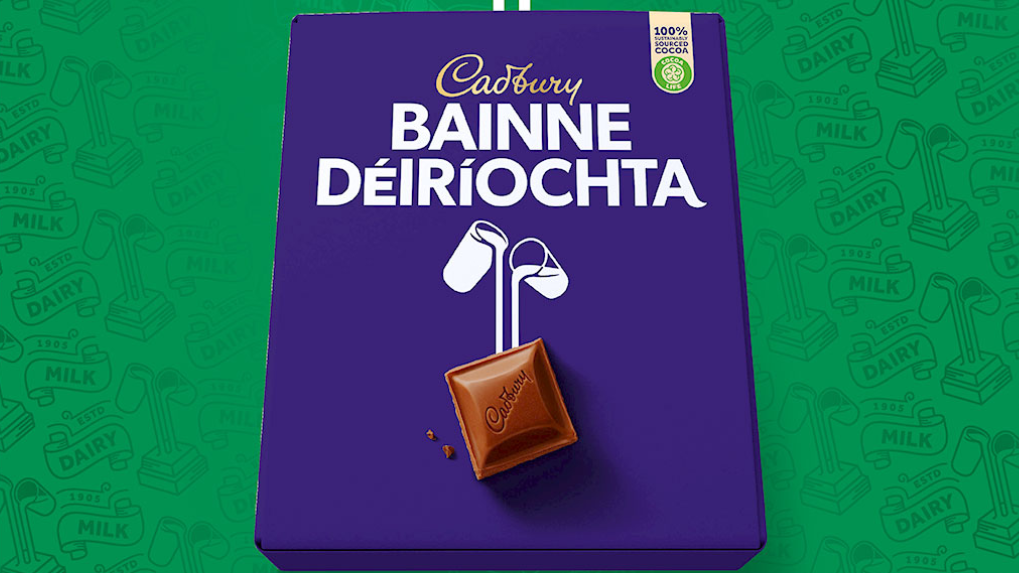 Combining the iconic purple packaging with the historic and proud language, the gift-boxes are perfect as a present for St Patrick's Day, or if you want to hold on to it, an excellent surprise gift for your favourite Gaeilgeoir this Easter.
Plus, for every Bainne Déiríochta box given with each 4 bars of chocolate, Cadbury's are making a 10c donation to Irish mental health charity Aware.
As reported by Adworld, Maighréad Lynch, Brand Manager, Mondelez, said: "Our iconic Cadbury Dairy Milk singles range has always been Irish but today it's even more so. We are delighted to launch our limited-edition Cadbury Dairy Milk packaging gift box in Irish to celebrate St Patrick's Day this year."
Colin Hart, Creative Director, Public House added: "This St. Patrick's Day we're excited to make an Irish icon even more Irish. This project has Cadbury's heritage at heart and who knows-- the name might even stick."
Cadbury's Dairy Milk bars have been produced in Coolock, County Dublin for over 80 years using fresh Irish milk-- we reckon making the name change permanent would fit perfectly with Cadbury's ongoing Irish story.