They celebrate St. Patrick's Day a little differently in Chicago, with an Irish-themed culinary creation that really has to be seen to be believed.
Inspired by the city's love of deep dish pizza and given a fun St. Patrick's Day twist thanks to a little bit of help from Baileys, this is one dessert you definitely haven't tried before.
That could all be about to change though and it's all thanks to this inspired recipe from Jocelyn of Grandbaby-Cakes.com. Enjoy!
What you'll need:
For the Crust:
1 package refrigerated sugar cookie dough, at room temperature
For the Chocolate Cream:
4 large egg yolks, beaten
1½ cups granulated sugar
¼ cup cornstarch
pinch of salt
⅓ cup unsweetened cocoa powder
2½ cups heavy whipping cream
½ cup BAILEY'S Coffee Creamer, The Original Irish Cream Flavor
¼ cup milk
1 tablespoon butter
1 tablespoon pure vanilla extract
For the Whipped Topping:
1 cup cold heavy whipping cream
½ cup powdered sugar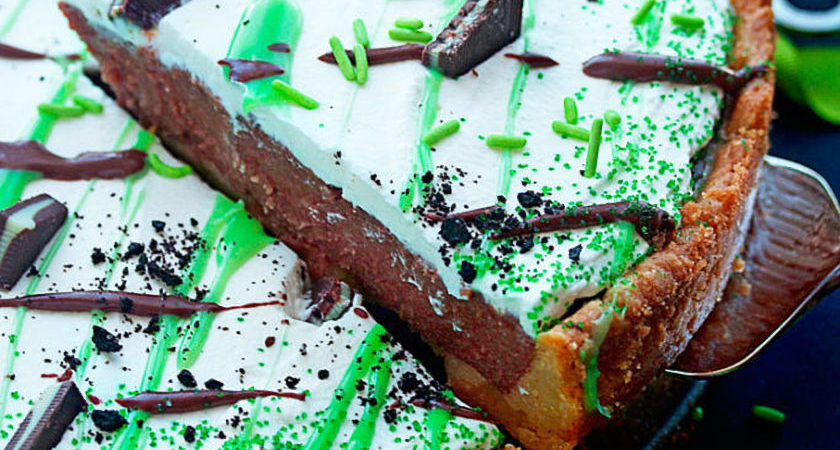 How to make it:
1. Start by preheating the oven to 180° C (350° F)
2. Coat a  9" inch springform pan with non-stick baking spray. Gently press the cookie dough onto the bottom of the pan using your fingers and a little flour.
3. Bake for around 15 minutes before removing from the oven. Use a small spoon to press the dough up the sides of the springform pan to create the deep dish crust. Leave to set.
4. Mix together the egg yolks and granulated sugar using a stand or hand mixer. Once combined, add in the salt, cornstarch and cocoa powder and mix at a lower speed. Finally add in the heavy whipping cream and Bailey's Coffee Creamer along with the milk. Mix together, taking time to ensure the entire mix is thoroughly blended.
5. Transfer the mix into a large pot and heat until it begins to boil. Whisk throughout.
6. Once thick, turn off hurt and add the butter and vanilla using a whisk to create a glossy, smooth cream. Leave to chill until barely warm.
7. Add the cooled filling to the cookie crust, ensuring it is spread out evenly. Pop in either the freezer for an hour or fridge for three hours, depending on timings.
8. Add the heavy shipping cream into a mixer and place on a high speed until peaks develop. Add in powdered sugar and beat again until heavy peaks reappear.
9. Spread the cream evenly over the pizza base and add your choice of toppings. Refrigerate until ready to serve.