HEIDI PATTERSON is just three years old, but has already been through more in her short life than most adults will ever have to face.
On the day Heidi was born, her mother, Sinead, woke up after an emergency C-section with no baby in her arms, and her parents standing at her bedside, having flown with minutes' notice to Manchester from Ireland.
Heidi had been without oxygen for 17 minutes before she started breathing-- the doctors trying to save her life would have stopped after 20 minutes.
Sinead visited her newborn daughter in the NICU, but couldn't hold her, instead reaching through a gap to stroke her child's hand.
The Pattersons were told that it was unlikely their baby would survive; family and friends came from Ireland to say goodbye to the child they had just met, and Sinead and her husband, Steven, prepared for the worst.
But Heidi was-- and is-- a fighter. She began breathing on her own, she grew stronger. And after 21 days in hospital, Sinead, Steven and Heidi went home.
The Pattersons were told their daughter would likely have developmental delays, but as time wore on and Heidi failed to meet her milestones, Sinead knew there was something else at play.
At a routine hearing test it was discovered that Heidi was partially deaf; at eight months, baby Heidi was diagnosed with quadriplegic cerebral palsy, and was registered blind at 18 months, only able to see light and shadow, which Sinead says was "possibly one of the hardest things to take".
"I asked the doctor would she ever see my face and he said no-- that was really, really upsetting."
"We left hospital thinking we had a child with development delays, but that she could see and she could hear, and it was hard to cope with the constant bad diagnoses and calling home to tell family the bad news each time," Sinead tells The Irish Post.
In 2019 Heidi underwent gastrostomy surgery for an unsafe swallow-- she receives liquids through a tube in her stomach but is able to feed orally, Sinead says, which is fantastic for Heidi because, like all children, she loves chocolate.
Heidi also loves going to school, attending Springwood Craig Hall in Irlam-- a far cry from the child who, last year, would become inconsolable at preschool, and as a baby cried "for 20 out 24 hours of the day"-- just one of the ways the three-year-old has come on in leaps and bounds.
Heidi's key workers, helpers and teachers are among the people Sinead expressed enormous gratitude to when she spoke to The Irish Post ahead of her daughter's next challenge-- the toddler will soon be undergoing a difficult double hip reconstruction, and will have a long road to recovery afterwards, requiring extensive physiotherapy and hydrotherapy.
She will be in a cast, bed-bound and unable to move for several weeks, and without any of the therapy which Heidi undergoes multiple times a day, multiple times a week, all her progress so far will be lost, with Sinead fearing she will no longer be able to stand or hold or head up.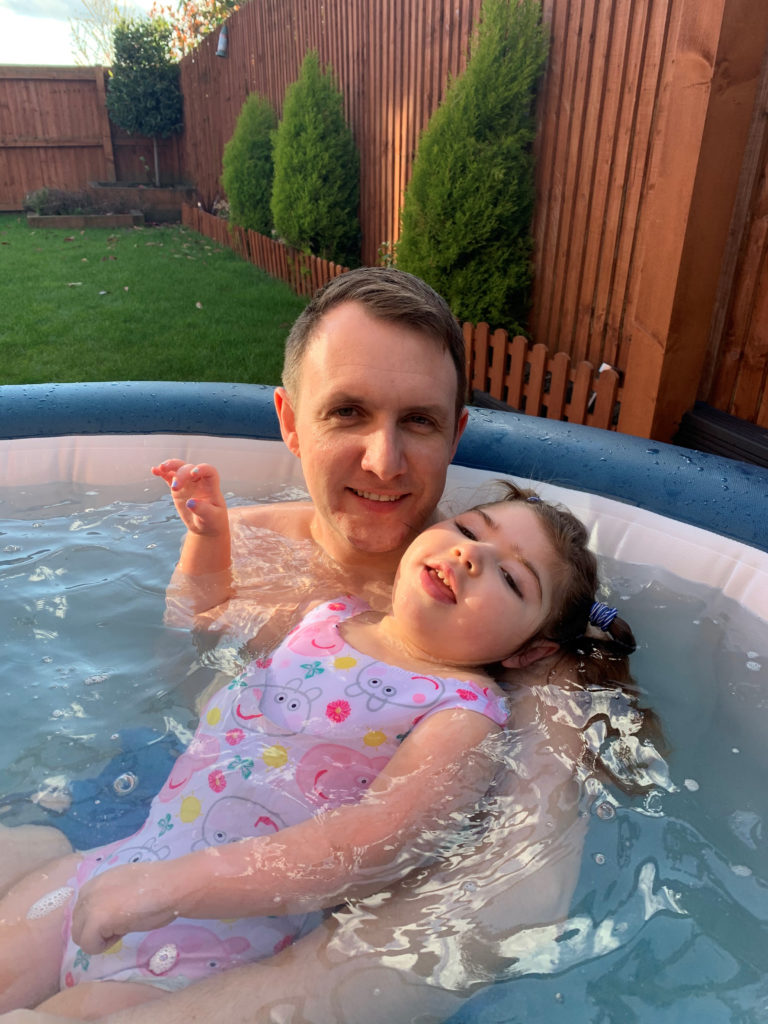 Sinead, who is originally from Cork, had in the past organised fundraising for Heidi back home in Ireland, with friends and family running marathons in her name.
Having moved to Manchester shortly before Heidi was born, Sinead admits she did not get the chance to meet or make friends with many people in the community, particularly with a disabled child to look after-- so she was blown away by the response to the newest fundraising effort for Heidi.
A GoFundMe page set up for Heidi has shattered its initial goal of £5,000, which will cover the cost of therapy following her bilateral hip reconstruction for several months; and with Heidi to continue needing therapy throughout her life, this help is an enormous weight off her parents' shoulders.
And last week, up to 400 trucks travelled down the M60 in Manchester, beeping their horns and flying messages of support for Heidi, raising thousands more for the brave little girl and the essential equipment, physiotherapy and hydrotherapy needed to aid her recovery.
The convoy was set up with the help of Lee Davy, the brother of Heidi's key worker Donna, who owns a transport company; he heard of Heidi's plight and contacted the Pattersons with an idea to help raise money for the expensive treatment, which can exceed £1000 each month.
"He got in touch last year, but with the coronavirus everything was cancelled," Sinead tells The Irish Post. "But Lee organised it again this year, and maybe because of the lockdown the response was even better than we'd hoped.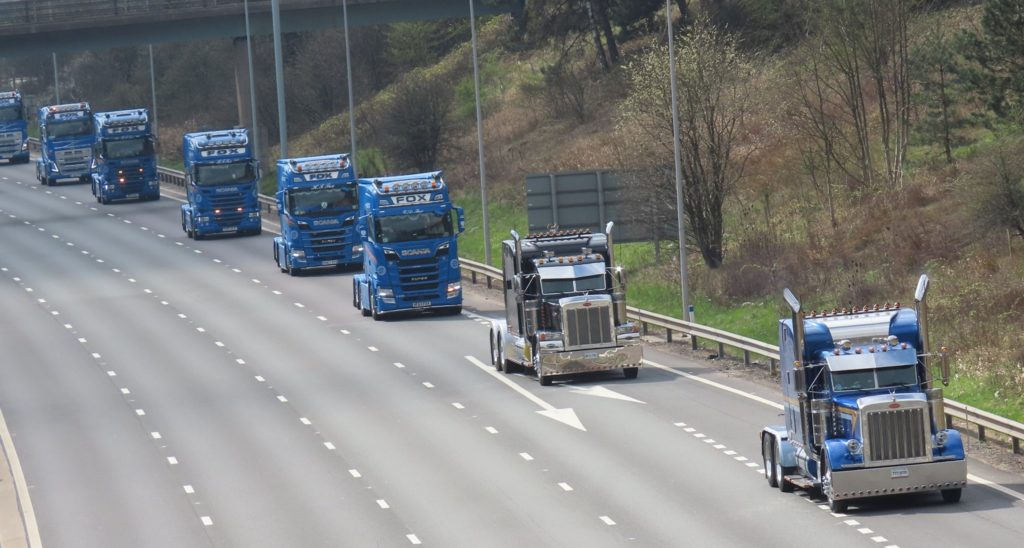 "Lee knew them all, they were all dead friendly, he worked really, really hard," Sinead says.
"He created a Facebook page specifically for Heidi and the M60 convoy, it was £10 entry to take part in the parade and we expected maybe 50 trucks, but Lee estimates there were around three to four hundred taking part."
"They were all so lovely," Sinead says.
"One company donated £1000 pounds, like-- we are so grateful that people know Heidi's story and how difficult her life is. It's overwhelming."
And Heidi herself, the woman of the hour, loved her day out.
Sinead explains: "To generate a smile out of Heidi is quite difficult because she can't see, she has to hear to enjoy it.
"But Lee came up to me and said 'I know Heidi doesn't smile an awful lot, but I've just seen Heidi smiling', and it just melted my heart.
"She doesn't smile for everything but she was smiling that day."
You can follow Heidi's story on her Facebook page, Heidi Patterson's Journey, here.
To donate to Heidi's continued care you can visit the GoFundMe page here.
A second fundraising campaign to help pay for the cost of renting a Hyperbaric oxygen chamber at home to assist with Heidi's recovery can be found here.