AMAZON IS facing calls to remove a series of Soldier F-themed t-shirts which are being sold via the online retailer's website.
The t-shirts, which have been available to buy online since April, make reference to Soldier F, the former paratrooper facing prosecution for the murder of two men on Bloody Sunday in Derry back in 1971.
Available in a variety of styles and designs, the t-shirts are available for both men and women in a variety of sizes.
T-shirts aren't the only Soldier F items being sold online, with mugs and other themed souvenirs on offer.
Though Amazon is not selling the products directly, the website's marketplace feature allows retailers and individuals to list items for sale at their own discretion on the site.
Despite this, the retailer is facing calls to remove the items with SDLP leader Colum Eastwood branding the t-shirts as "grossly offensive to those who lost loves ones" during Bloody Sunday.
"The commercialisation of this sickening spectacle is disgusting, and action should be taken to remove the merchandise from retailers," he told Irish News.
"I will be contacting senior executives at Amazon to express my serious concerns about the Soldier F apparel that is available on the site and asking that it be removed immediately.
"It is grossly offensive to those who lost loved ones on Bloody Sunday who should not have to face people wearing slogans supporting a man charged with the murder of their family members."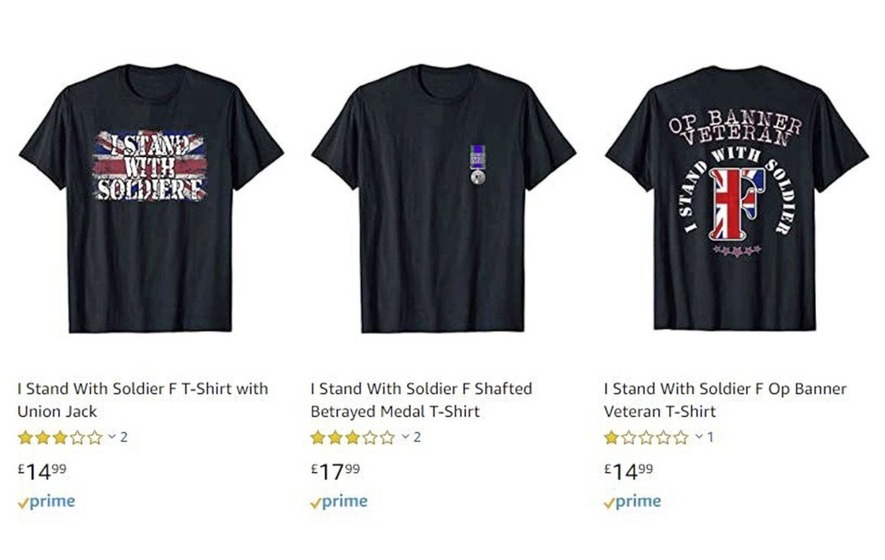 According to the Belfast Telegraph, Eastwood has written to Amazon's UK managing director, Doug Gurr, to request the clothing is removed from sale.
"The actions of the soldiers on that day were described by British Prime Minister David Cameron as 'unjustified and unjustifiable' after the publication of the Saville Report into Bloody Sunday," he wrote.
"The family members of those gunned down on Bloody Sunday continue their fight for truth, justice and accountability today. I am sure you will agree that it is grossly offensive and extremely insensitive to those who lost loved ones to see people wearing slogans supporting a man charged with the murder of their family members.
"I am, therefore, requesting that Amazon urgently removes the merchandise relating to Soldier F in acknowledgement of the pain endured by those families."
Several of Eastwood's supporters are now considering boycotting Amazon over the issue.