GARDAÍ HAVE opened an investigation following the rescue of a badly neglected donkey in County Cavan.
A statement from An Garda Síochána confirmed that an animal cruelty investigation has been opened after a donkey was discovered "in a bad state" in a field on the Longford/Cavan border.
The alarm was raised on Tuesday this week when a passerby alerted Gadaí to a donkey who appeared to have been abandoned in Tullygullian, County Cavan.
When Gardaí found the animal, he was in a distressed state and unable to walk as his hooves had grown so long they were curling up, causing considerable discomfort to the donkey.
Following investigations, it was found that the donkey had been abandoned in the field without the knowledge or permission of the landlord.
He was not microchipped, which is a legal requirement, in Ireland and Gardaí are now working to try and find his original owners.
The donkey has now been taken into the loving care of the Hungry Horse Outside charity, where he will be rehabilitated and have his hooves fixed by a farrier before he is found a permanent forever home.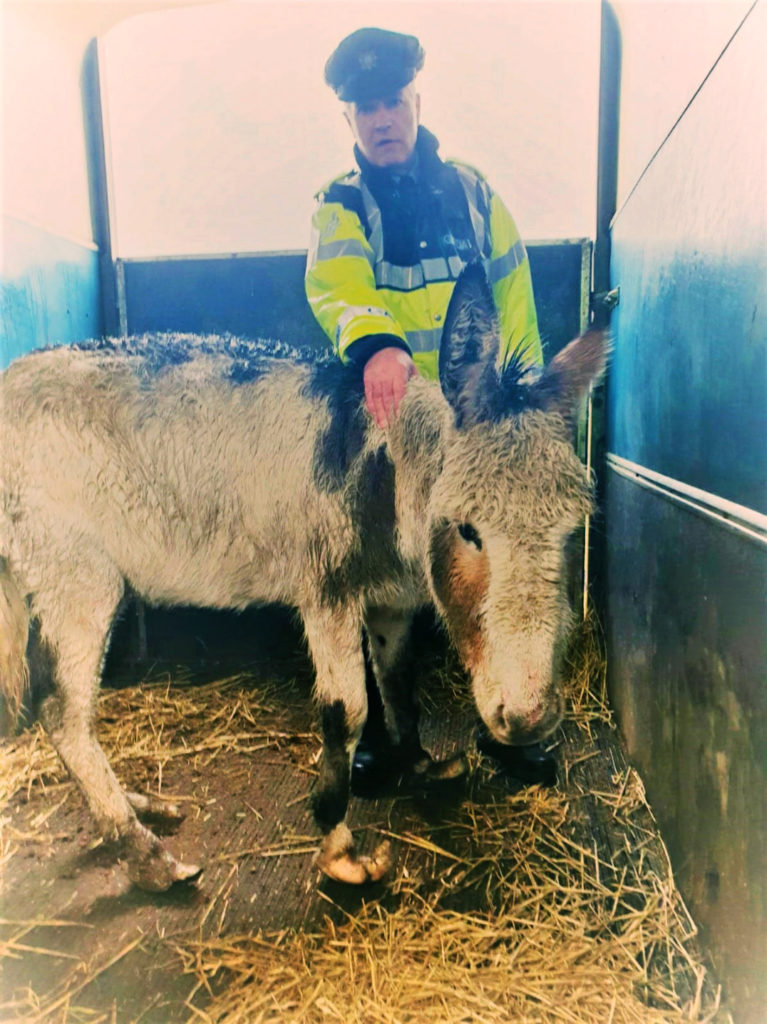 Staff member Hilary Robinson promised that the little donkey's future is now a bright one, and he will never again be mistreated.
"This was a serious case of neglect and cruelty of this donkey," she said.
"There are supports available to owners, from surrendering the animal to a sanctuary, to help being made available to those who are genuinely trying to look after the animal. There is plenty of advice and guidance available to owners."
She went on to warn that there is a "common misconception" that donkeys are 'hardy', but said there is in fact "an absolute need to support and give adequate care, proper shelter and feeding throughout the winter as well as regular farrier visits to prevent horrendously painful situations such as this."
Gardaí in Granard, County Longford, have appealed for any information which could lead to the identification of the animal's owners, or as to who abandoned the donkey in the field, to come forward.
Anyone with information is asked to contact Granard Garda Station on 043-6687660 or their local Garda Station.