A BRAVE 12-year-old Irish girl has written to Joe Biden ahead of global Earth Day. 
Ruby Maher from Newbridge in Co Kildare, penned a letter to the US President in response to his call for more young people to get involved in the annual event. 
First established on April 22, 1970, Earth Day was set up as a way for people all over the world to show their support for environmental protection. 
Ruby and her sisters have already gone above and beyond this year with a special song, Lullaby for the World, which was recorded for the US President and sent to him along with her handwritten not. 
"I just thought I'd write the letter to try and get the world to listen," she told the Irish Times.  
"I'm only a little girl and President Biden is the most powerful man in the world, but I feel that he will read my letter as his family is from Mayo and he's always talking about how he loves Ireland. 
"I think he'll like the fact that we are just an ordinary Irish family trying to help the planet through our song. I think we can all do our bit to help the environment. 
"I don't think it's nice if people just destroy it by littering and not caring about it. It's not fair as they will destroy it for all of us young people. 
"It's really exciting as I believe we have a real chance of him loving our song. I really believe Lullaby for the World is going to awaken people to the need to protect our Earth. 
"We can all do our little bit for Earth Day this year, April 22nd. I have asked my school principal if my school in Newbridge, The Holy Family, can have a clean-up that day and it's great it's going ahead. I'd just love if all Irish schools did the same."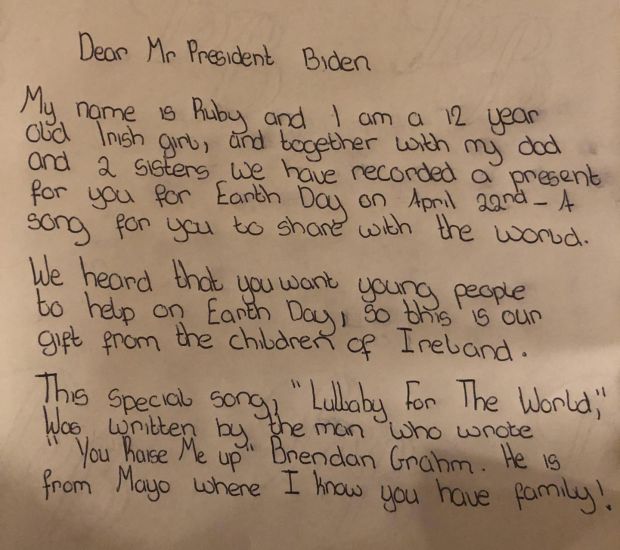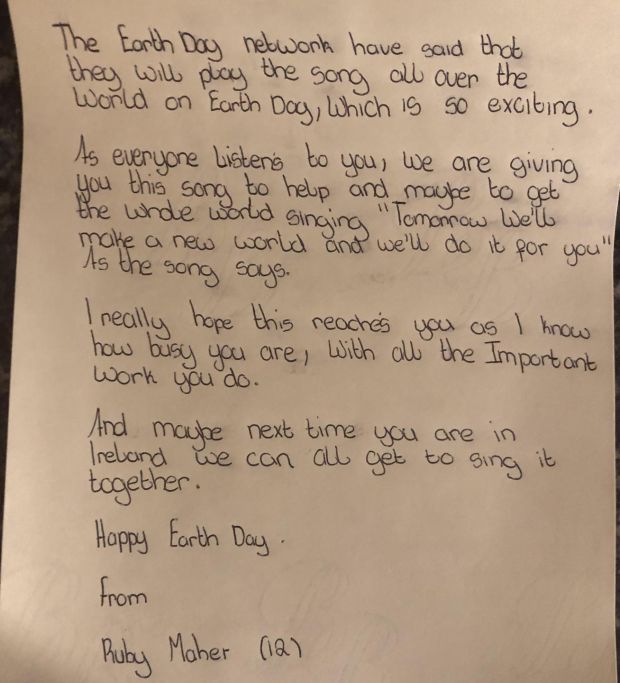 Ruby is calling on children from across Ireland to do their bit for Earth Day this year by simply spending five minutes picking up litter from around their local neighbourhood. 
The perfect way to show support in a socially distanced way, she is hoping the initiative will become an annual.  
Ruby's desire to make a difference is born out of personal family tragedy. 
She lost her older brother Danny to a rare form of cancer when he was just. 
It was loss that made her realise the need to take action today rather than wait for tomorrow.  
This new campaign and her song, Lullaby for the World, is the result of that. 
Having captured the imagination of Ireland with her song, Ruby now awaits a response from President Biden.