A LENGTHY list of demands put forward by a bride-to-be ahead of her wedding day has gone viral online after being leaked onto social media.
It all started when someone decided to share the list on Reddit, which came from an email sent to a professional 'wedding coordinator'.
Though the email comes from her account, the unnamed Bridezilla is thought to be the architect of the passive-aggressive list of obnoxiously bizarre requests for the big day.
The list 'requests' that guests arrived 15 to 30 minutes early, avoid wearing white, cream or ivory and avoid any elaborate hairstyles, with basic bobs and ponytails the order of the day.
It goes on to request that guests do not have a "full face of makeup", record any of the ceremony and under no circumstances 'check in' on Facebook until instructed.
They must make sure to use the specific wedding hashtag when posting pictures online and, as written in the list, the must "NOT TALK TO THE BRIDE AT ALL".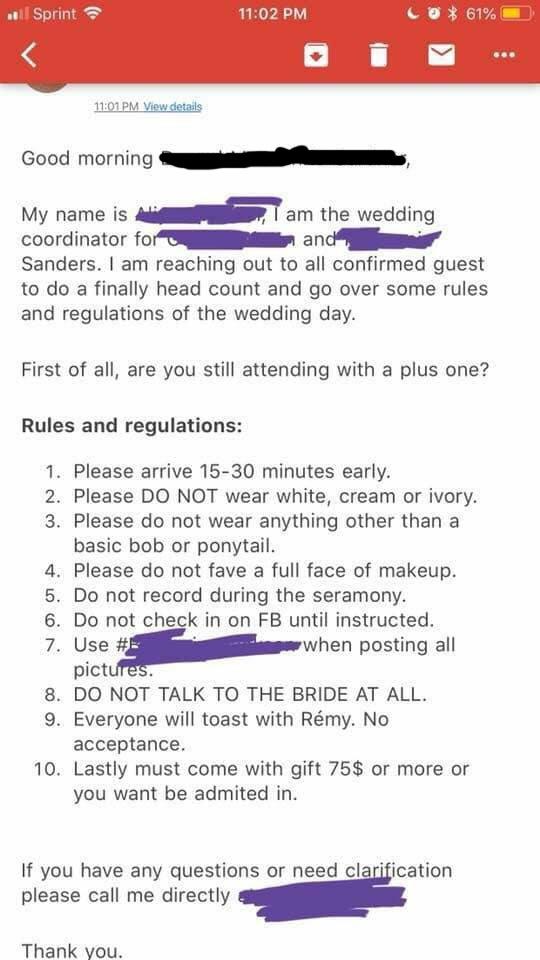 To cap it all off, guests are informed they must come with a gift worth $75 or more, otherwise, it's likely that they won't be admitted into the event.
Littered with bizarre spelling mistakes which paint a picture of the bride-to-be furiously typing out the demands during a stressful day of wedding preparations, it's just the latest example of a bridezilla committing a major faux pas ahead of their nuptials.
Back in August, one would-be bride made headlines online after announcing on Facebook that her fairytale wedding was being cancelled after guests refused to pay $1,2000 each to attend.
More recently still, another bride-to-be erupted in anger on social media after discovering her maid of honour had got engaged in the weeks running up to her own wedding.